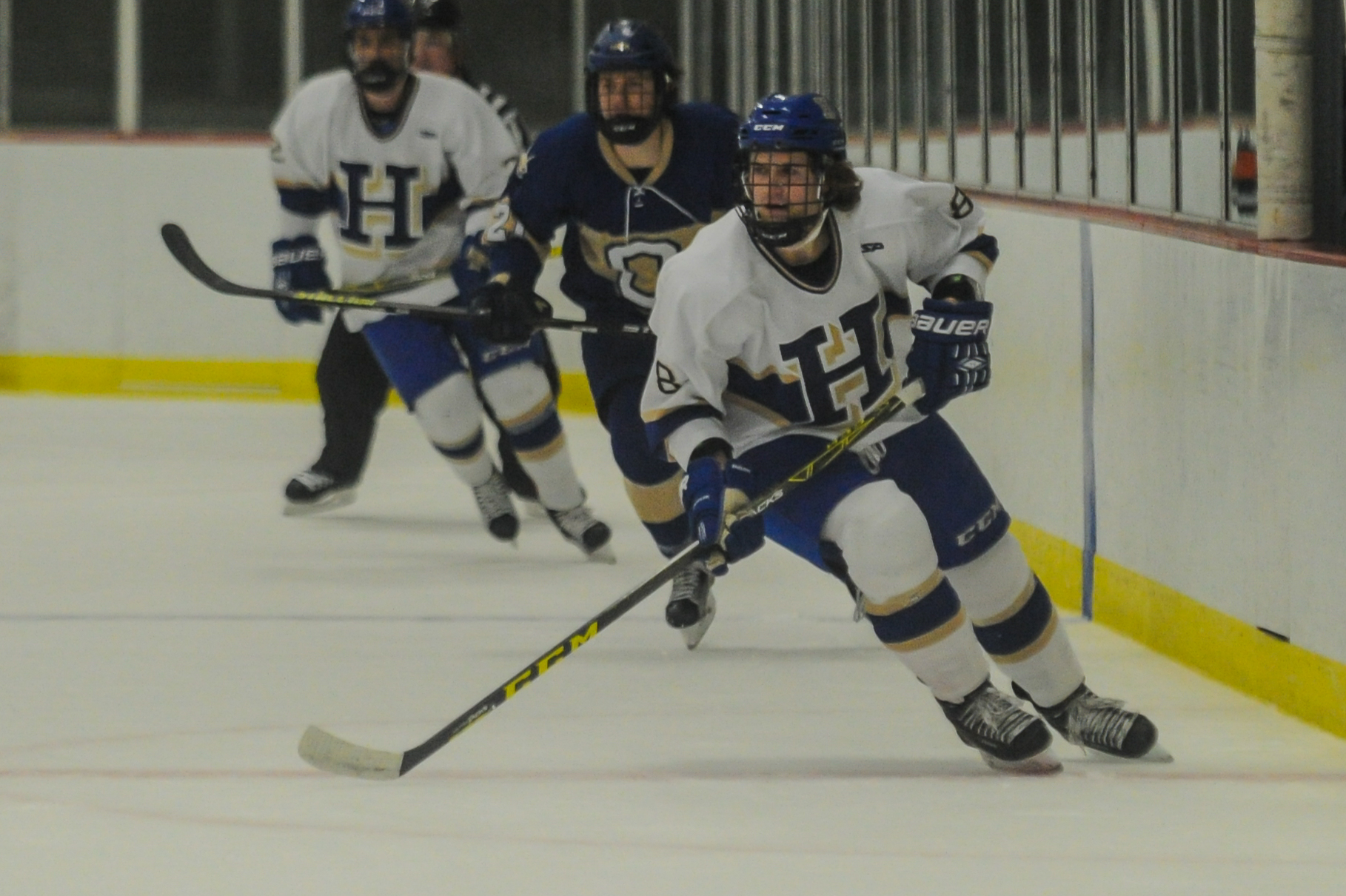 The Hamilton College men's hockey team turned in another strong defensive performance Friday night, posting a 5-1 win over visiting SUNY Canton in a non-conference game at Russell Sage Rink.

Box score
The game was the opener of a home-and-home weekend series between the two teams. Hamilton and the Kangaroos play a 7 p.m. game at Canton Saturday.

The Continentals (2-1-0 overall) have allowed just four goals over their first three games; they rank fifth nationally in scoring defense. Hamilton held the Kangaroos (1-7-1) scoreless for the game's first 49:52; coupled with Saturday's shutout of Franklin Pierce and holding fifth-ranked Amherst without a goal for the final 4:39 of Friday's opener, the Continentals ran their shutout streak to 113:39 minutes – the program's longest since a stretch of 129:58 over three games in February and March 2004.

A total of 10 Hamilton players had a goal or an assist, including five Continentals who recorded their first point of the season. Xavier Morin '17 and Scott Vazquez '16 picked up a goal and an assist, and Conor Lamberti '17 and Rory Gagnon '19 assisted on a pair of goals.

Evan Buitenhuis '18 – the only goaltender to see action this winter for Hamilton – made 20 saves to lower his goals-against average to 1.33, which ranks ninth nationally. He's 11th in save percentage, stopping 94.8 percent of the shots he's faced.

Morin opened the scoring with 1:40 left in the opening period with his first goal of the year, then assisted on one of Hamilton's two third-period goals.

The Continentals' top line of Brandon Willett '18, Robbie Murden '17 and Neil Conway '18 gave the hosts a 2-0 lead midway through the second period. Willett took a pass from Conway at the right face-off circle and wristed a quick shot past Canton goaltender Josh Erickson. Murden picked up the second assist on the play; he's now Division III's fifth-leading scorer. Just under two minutes later, a Kangaroo turnover led to Hamilton's third goal. Seamus O'Neill '17 stole a clearing pass and fed T.J. Daigler '18, who came in on Erickson's glove side and put a shot in the net for his first goal of the year.

After Canton, who was outshot 30-21, got on the board in the middle of the third on a goal by Joey Vocino, the Continentals responded with a pair of quick goals to retake control.

Jon Stickel '19 scored his first collegiate goal, taking a pass from Morin and beating Erickson with a slap shot at the 12:29 mark. Vazquez closed out the scoring 57 seconds later, converting a pass from Lamberti. Lamberti is the nation's second-highest scoring defenseman, now averaging 1.33 points per game.

Erikson finished with 23 saves before being replaced by Luis Puig following the Continentals' fifth and final goal. Puig turned aside both shots he faced.