Seniors pace women's ice hockey past Bowdoin
---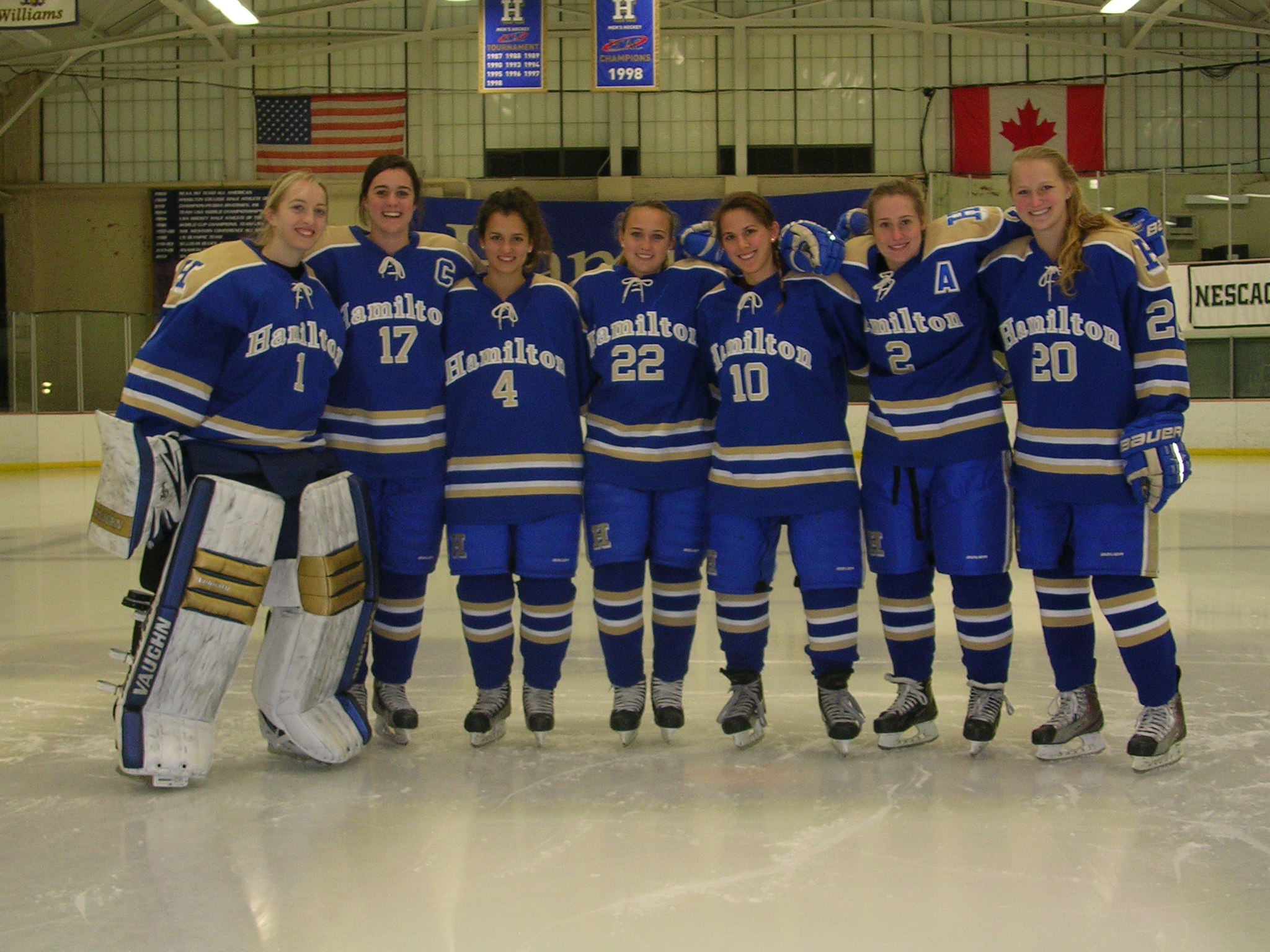 Playing in their final game at Russell Sage Rink, seven Hamilton College seniors led the Continentals past the Bowdoin College Polar Bears 4-1 in NESCAC competition on Sunday afternoon.

Box score
Hamilton (7-13-2, 1-11-2 NESCAC) snapped a 13-game NESCAC winless streak, and the Continentals matched their highest scoring game ever against the Polar Bears.

Jill Tokarczyk '14 recorded her first career two-goal game to lead Hamilton. Tokarczyk, one of seven seniors honored before the game, took advantage of a Bowdoin giveaway to open the scoring 6:46 into the first period. Bowdoin's Lan Crofton '17 stopped Megan Fitzgerald '16 on a one-on-one and the Polar Bears controlled the rebound but Tokarczyk stole the clearing pass at the top of the right circle and beat Crofton with a quick shot. She picked up her third goal of the season with 2:07 left in the opening period, taking a pass from Stephanie Lang '14 on the right side and putting a shot past Crofton's stick side.

The Polar Bears (10-9-3, 5-6-3) tied the score midway through the first on a goal by Rachel Kennedy '16. Kennedy took a lead pass from Schuyler Nardelli '15 near center ice and carried the puck despite a poke check from a defender. She took a shot that was initially stopped by Hamilton's Tori Bogen '14, but the puck bounced behind her and landed just over the line.

Nikki Haskins '14 scored her second goal of the season and the 28th of her career with 7:25 remaining in the second. Following a faceoff win by Teal Gosselin '17 deep in the Bowdoin end, Haskins received a pass from Sara Taffe '17 in the slot and scored to put the Continentals up 3-1. Casey Brown '16 also picked up an assist on the play.

Gigi Fraser '14 closed out the scoring with her 10th goal at 3:20 of the third period. Fraser accepted a pass from Maddie Carras '17 and took the puck to the near post before she shot across the crease inside the far post.

Bogen finished with 25 saves. Crofton stopped 26 shots before giving way to Beth Findley '16, who saved all five shots she faced.

Hamilton closes out the season with a NESCAC weekend series at Colby College, starting with a 7 p.m. game on Friday, Feb. 21. The Polar Bears host Amherst College on Friday to kick off their final series of the regular season.