Seven men's lacrosse players honored by Liberty League
---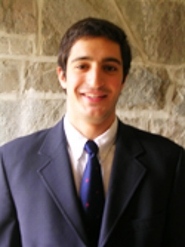 Seven Hamilton College men's lacrosse players were honored by the Liberty League on May 5 when the league announced its 2011 end-of-season awards.

Pax Anthos '14 (Wellesley, Mass./Loomis Chaffee School [Conn.]) was selected the league's rookie of the year. Jon Leanos '12 (Long Valley, N.J./Delbarton School) and Corbin Brown '11 (Lincoln, Mass./Milton Academy) were voted first team all-league.

Luke Walsh '13 (Loudonville, N.Y./Shaker HS) and Mike Fiacco '13 (Fayetteville, N.Y./Jamesville-DeWitt HS) made all-league second team. Henry Burchenal '12 (Summit, N.J./Pingry School) and Max Vaickus '12 (Hingham, Mass./Hingham HS) were all-league honorable mention.

2011 Liberty League end-of-season awards

Anthos was a league rookie of the week pick twice. The midfielder tied for third on the team with 15 goals, and was second with five man-up goals. He finished fourth on the squad with seven assists and 22 points.

Leanos leads the league with 4.57 points per game and 2.43 assists per game, and ranks fifth with 2.14 goals per game. This is his third all-league honor, but the first time he's been on the first team. The attackman was the league's 2009 rookie of the year. His 64 points were the most by a Hamilton player in one season since 2003.

Brown led a defense that leads the league in penalty-killing percentage, caused turnovers per game and goals against average. The long-stick midfielder was second on the team with 39 ground balls and 19 caused turnovers. He was all-league honorable mention last year.

Walsh scored 15 goals and added five assists in 14 games. The midfielder started six games in 2011.

Fiacco started all 14 games on defense. He scooped up 34 ground balls and led the team with 26 caused turnovers.

Burchenal ranks third in the league with 2.21 goals per game and is tied for seventh with 2.50 points per game. He started all 14 games at attack and tallied seven man-up goals. He was second team all-league in 2010.

Vaickus leads the league with a 6.12 goals against average, and ranks second with a .626 save percentage and fourth with 9.00 saves per game. He started 13 of 14 games in goal, and posted a record of 10-3.

The Continentals (11-3 overall, 3-3 Liberty) ended 2011 with a four-game win streak. The 11 wins are the most for the program since Hamilton also ended up 11-3 in 2006. The Continentals received votes in this week's Division III Top 20 coaches poll.