Seven Students Awarded Class of 1979 Travel Grants
---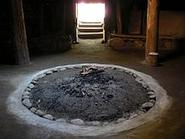 Seven students have been selected to receive the Class of 1979 Student Travel Award. The award, established by the alumni of Hamilton's Class of 1979, offers financial assistance to outstanding students who wish to pursue extensive research projects in different parts of the world.

The 2012 recipients are Barsha Baral '13, Chelsea Haight '13, Katherine Hill '14, Adrien Hilmy '13, Elizabeth Huebner '13, Tenzing Lama '13 and Mandy Wong '15.

Barsha Baral will use the award to attend The Joint Conference of HGM 2013 & 21st International Congress of Genetics in Singapore. A native of Nepal, she came to Hamilton and has been researching the phylogenetic tree of nematodes with Professor Wei Jen Chang since 2010. Baral hopes her involvement will inspire other female students from poor countries like Nepal to decipher scientific mysteries.
Chelsea Haight's grant will support a two-week trip to Antigua, Guatemala, where she'll volunteer with International Volunteer HQ (IVHQ). Haight will assist in the childcare unit, which provides individual care to children from low-income communities.

Katherine Hill will present original research at the Society for American Archaeology annual meeting in Honolulu, Hawaii. This fall, in collaboration with Professor Nathan Goodale, she has been working on a project titled "Elemental Characterization of Floor Sediments from Housepit 54, Bridge River Housepit Village, British Columbia." The sediments were collected during the 2012 University of Montana archaeology field school.
Adrien Hilmy will also attend the Society for American Archaeology Conference in Honolulu. His senior thesis is titled "Measuring the Matrix: An Analysis of Elemental Composition in Cultural Sediments from the Slocan Narrows Pothouse Village, Upper Columbia River Drainage, British Columbia, and Canada." This project is a study of the variation in the composition and intensity of elements found in archaeological sediments, offering important information concerning occupation intensity and the use of space by humans in prehistory.
Elizabeth Huebner will volunteer at a clinic in Guatemala with International Volunteer HQ (IVHQ) for three weeks. She will aid doctors and nurses in an understaffed or large patient-load clinic.
Tenzing Lama will conduct an interdisciplinary study on the "Effects of the Upper Tamakoshi Hydropower Project on Public Health and Education in Lamabagar." The project, estimated to be complete by 2015, will be the largest hydroelectric plant in Nepal. Lama will to travel to Lamabagar during the winter of 2012-2013 to study the effect of the UTH Project on human development in Lamabagar, focusing on how infrastructure development has affected public health and education.
Mandy Wong will examine how much Fuzhounese children's views on higher education change before and after immigrating to the U.S. She'll study what happens to these children's perspective on obtaining a higher education once they are taken out of their original environment and to what extent a new environment can impact their views.