Seventeen Seniors Elected to Phi Beta Kappa
---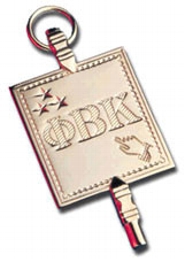 Seventeen Hamilton seniors were elected to the Epsilon chapter of Phi Beta Kappa, the nation's oldest honor society, at a recent meeting.
The inductees are Sophia Boehm, Ryan Cadigan, Dennis Clark, Meghan Clary, Noah Ennis, Elizabeth Farrell, Catherine Ferrara, Andrea Frederick, Cristina Garafola , Rebecca Green, Erica Kowsz, Alison McLaughlin, Andrew Portuguese, Samantha Rabin, Nathaniel Taylor, ChloeVon Ancken and Olivia Wolfgang-Smith.
Phi Beta Kappa is the oldest and most prestigious honor society in the country. Students are elected to membership in recognition of their exceptional academic achievement in fulfilling the goals and purposes of the college.