Sharon Yam '16 Interns With Educational Firm
---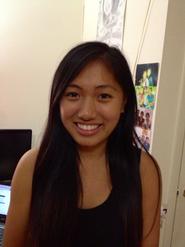 Many Hamilton students do not begin serious internship experiences until their sophomore or junior years. However, through a program called First Year Forward, 33 first-year students are working with the Career Center to participate in workshops throughout the academic year and complete career-related experience the summer following their first year at Hamilton. One such student is Sharon Yam '16, who is interning with an education firm, Independent Placements.
Independent Placements is an educational consulting firm that specializes in recruitment, professional development and data analysis. The firm collaborates with a number of schools in the New York City area. It was founded last year by Hamilton alumna Maggie Franco '04, with whom Yam is excited to work. "I know that as Hamilton students, we are both driven to succeed in whatever we do," Yam commented. Working with Franco has made Yam's internship feel like a continuation of her work on campus, and she feels confident working with Franco's ideas, knowing that they are both building on a Hamilton education.
Yam is a marketing intern, helping to promote Independent Placements (IP) so that it becomes well known among New York City educators. Along with one other marketing intern, she has been designing event fliers and company brochures, working on a promotional video, and updating IP's pages on Facebook, Twitter and LinkedIn. Marketing is relatively new to Yam, and she is enjoying learning more about the process. Although unsure of whether she will pursue a career specifically in marketing, she noted, "I think in the future, I will definitely be working with people so this is a good experience to try."
Yam is also determined to learn more about the education system, remarking, "Although I have been a student in the NYC public school system for most of my life, I don't know much about how the administration works." She was particularly interested to see how IP collaborates with charter schools in the city and remembers a trip to one especially memorable school, South Bronx Classical Charter School. "One of my favorite parts about the school was that outside classrooms, there are banners with the anticipated year that the students will graduate from college. Seeing the words 'Class of 2023' was really inspiring for me and I can only imagine what the children think of it," Yam remarked. "I think it's great how the school creates a healthy environment that's different from the neighborhood and helps to nurture the students into respected citizens."
The First Year Forward (FYF) program helped Yam to obtain her internship at IP. The students participating in the Career Center's program attended monthly group sessions and four individual appointments throughout the year. They worked to assess their career interests, develop professional connections, perfect resumes and cover letters, and polish their professional etiquette. Each student is then expected to complete 150 hours of career-related experience over the summer and receives a stipend for doing so.
Yam appreciated the encouragement the FYF program gave her to find an internship early and start exploring her possible career interests. "I think that the first year is just as important as other years and a good time to start thinking about future careers or even trying to experience different fields," she said. Thanks to FYF and her work this summer with Independent Placements, Yam will go into a sophomore year with an enhanced vision of her own interests and a strong foundation of professional experience.
Yam is a graduate of Stuyvesant High School in New York City.