Sidekicks Meet Their Match
---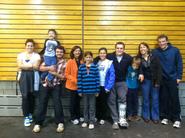 A pizza party and meet and greet was held at the Tolles Pavilion on Oct. 2 for participants in Hamilton's new "Sidekicks" program. Sidekicks is a program that pairs Hamilton College students with Clinton elementary school students in grades 1 - 4 in order to establish a long term mentoring relationship between the Hamilton student, his or her sidekick, and the sidekick's family.
More than 100 students from Hamilton and 100 students from Clinton applied for the program, and thanks to the dedicated work of student leaders Meghan O'Sullivan '15 and Mia Falzarano '13, all students were matched.
The goal of the program is simply for the sidekick pair to establish a positive relationship and have fun together via a variety of activities - playing sports, doing arts and crafts, reading, going to sporting events, or anything else the child enjoys. Sidekicks is a program of the COOP that will be run by O'Sullivan and Falzarano, along with student team leaders Ben Goffin '15, Graham Boyd '14, Max Ingrassia '15, Jo Stiles '15, Connor Stevenson '15 and Sam Levy '15.