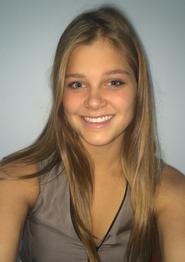 In the U.S., having command of more than one language can only help one's job prospects. However, in many countries this skill is simply a prerequisite for employment.
Siri Cosper '16, a comparative literature and Hispanic studies double major, is spending the summer teaching English in Madrid. She is interning with the language academy Languages 247, made possible through the generosity of the Summer Internship Support Fund.
Cosper is interested in possibly becoming a professor, and having tutored at the middle school and high school levels, she wanted to gain experience teaching adults. After a crash course in tutoring ESL students and shadowing full-time faculty, Cosper now tutors her students independently. Her lessons are one-on-one, tutoring beginner to advanced level English, English language exam preparation for assessments such as the TOEFL and IELTS, as well as "business English" for professionals.
"Some of my students understand next-to-nothing and others are virtually fluent," Cosper explained, "with the beginning English students I have to do more translating, and with the advanced English students I have to find and stimulate interesting conversation to practice higher vocabulary and ideas."
Cosper went on to detail how the unemployment rate in Madrid is over 20%, making many want to learn English "for the sole intention of getting a job." Despite the fact that "the majority of [her] students are studying at university, or have already completed their studies with a master's or a Ph.D., very few are employed."
"It's incredible to me how high the standards of employment are here," she continued. "For example, one of my only students with a steady job is a 27-year-old architect who can speak three languages fluently, and two conversationally," as if that weren't impressive enough, he also "has two master's degrees, one in architecture and one in international business."
Her students are not the only ones developing their foreign language abilities, however. Through Languages 247, Cosper receives two Spanish lessons a week, "improving [her] fluency level to conversational, at minimum." Yet, her learning extends beyond the classroom, "I've learned so much about the culture here from my students, far more, I'm convinced, than if I were here studying abroad," she acknowledged.
Teaching 40 students each week, Cosper feels as though she has a "fairly comprehensive perspective" on Spanish culture. "Much of our material offers the opportunity to discuss current social issues, such as the abdication of the king, the current economic crisis here, and global warming/environmental responsibility," she remarked.
Although she is not entirely sure what post-collegiate life will bring, she would like to continue using and deepening her Spanish abilities. Cosper would like to pursue either a Ph.D. in law, or a master's in adult education.
Siri Cosper is a graduate of LaSalle Academy in Providence, RI.