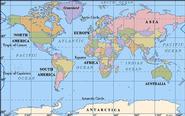 Six Hamilton students have been selected to receive the Class of 1979 Student Travel Award. The award, established by the alumni of Hamilton's Class of 1979, offers financial assistance to Hamilton students who wish to pursue extensive research projects in different parts of the world.
Ben Goldman '17 will undertake a project titled "Gregorian Chant and Monastic Life on the Isle of Wight." He will travel to Quarr Abbey, a historical Benedictine monastery on the Isle of Wight in England. Originally constructed in the 12th century, in 1907 the monks of Solesmes bought the estate in order to escape the unjust laws against religious life in France. They then built a monastery which still stands today. The church which was constructed became, and still is, the center of daily life for the Benedictine monks who reside there.
Goldman, a member of the Hamilton College Choir and College Hill Singers, will have access to the special, reserved collections of Gregorian Chant they have in their extensive library and will be able to sing with the monk's schola to learn the style of chant they use, as well as the way they interpret these complicated works.
Njideka Ofoleta '16 was awarded a grant for her project "A Cross-Cultural Analysis of the Effectiveness of Women's Microcredit Loans." She will perform ethnographic research and record stories of women who have created women's cooperatives in Morocco. Ofoleta will also study the difference between advocacy communication strategies employed by NGOs and microcredit institutions in the Murcia region of Spain with the practices used by NGOs in Tangier, Morocco.
In the Murcia region of Spain, microfinance institutions have grown in prominence; while in Spain Ofoleta intends to visit this region and learn about the steps undertaken to provide loans for immigrant populations, particularly women immigrants from North Africa who are unfamiliar with Spanish cultural normatives and have trouble understanding the language.
After her time in Spain, she will intern with an NGO, World Unite, which works with female textile workers on women empowerment initiatives.
Alicia Rost '15 and Meghan O'Sullivan '15 have a joint project Utica Parents Project. In their proposal they note that more than 25 percent of Utica's population is foreign-born, and more than 42 distinct languages are spoken in the public school district. In addition to being a city of refugees and immigrants, Utica is also a community faced with alarming rates of poverty.
Their project has been devised in conjunction with the N.Y. State Office of New Americans and will continue the work of Catherine Gold '14 who devoted her senior honors thesis in public policy to write an extensive literature review on methods of increasing parental involvement. Rost and O'Sullivan will work to implement the proposed study and are working to establish contacts with the local community. Their grant will be used to support meetings with parents, teachers and administrators in Utica schools.
Throught these meetings, they will begin exploratory research in order to familiarize themselves with the specific needs of the Utica district. One component of the intervention process involves training teachers and administrators in particular professional development skills.
In order to successfully train these individuals, Rost and O'Sullivan have arranged to have a specialist in the field, Dr. Joyce Epstein, to run training sessions. Epstein is the director of Johns Hopkins University's Center on School, Family and Community Partnership, and has worked extensively on training programs designed to increase parental involvement. Rost and O'Sullivan have also contacted local leaders to help implement the study.
Rachel Sobel '15 will use her grant to travel to the American Chemical Society National Conference division of chemical education in Denver, where she has been invited to speak at the "Perspectives on Climate Change Literacy and Education Symposia." She will discuss "Campaign Strategy, Outreach, and Advocacy Efforts at the U.N. Climate Conference."
Sobel is attending the U.N. Climate Change convention in Lima, Peru, through Dec. 12. She wrote in her proposal, "This is an opportunity to expand my outreach and education beyond the experiences I have cultivated during my time at Hamilton. It will also allow me the opportunity to speak to a diverse audience of chemical, business, and policy professionals, promoting the visibility of Hamilton and addressing an issue extremely important to myself, the global community, and the initiatives of the American Chemical Society."
Tsion Tsefaye '16 was awarded a grant to attend the Clinton Global Initiative University 2015 (CGI U) at the University of Miami in March. CGI U is an annual event that gathers higher education students, university administrators and social innovation experts who are committed to transformational change. CGI U is not only a networking event but also an opportunity for participants to gain professional feedback on how to most effectively implement their Commitment to Action.
Commitment to Action is a new, specific, and measurable project that addresses a long-standing social problem. Such a project is a prerequisite for acceptance to CGI U meetings. Tsefaye's Commitment to Action is a leadership-training program titled Youth for Ethiopia that was implemented in summer 2014 in collaboration with the Arthur Levitt Center and Ethio-Parents' High School. Youth for Ethiopia aims to nurture transformational Ethiopian leaders.