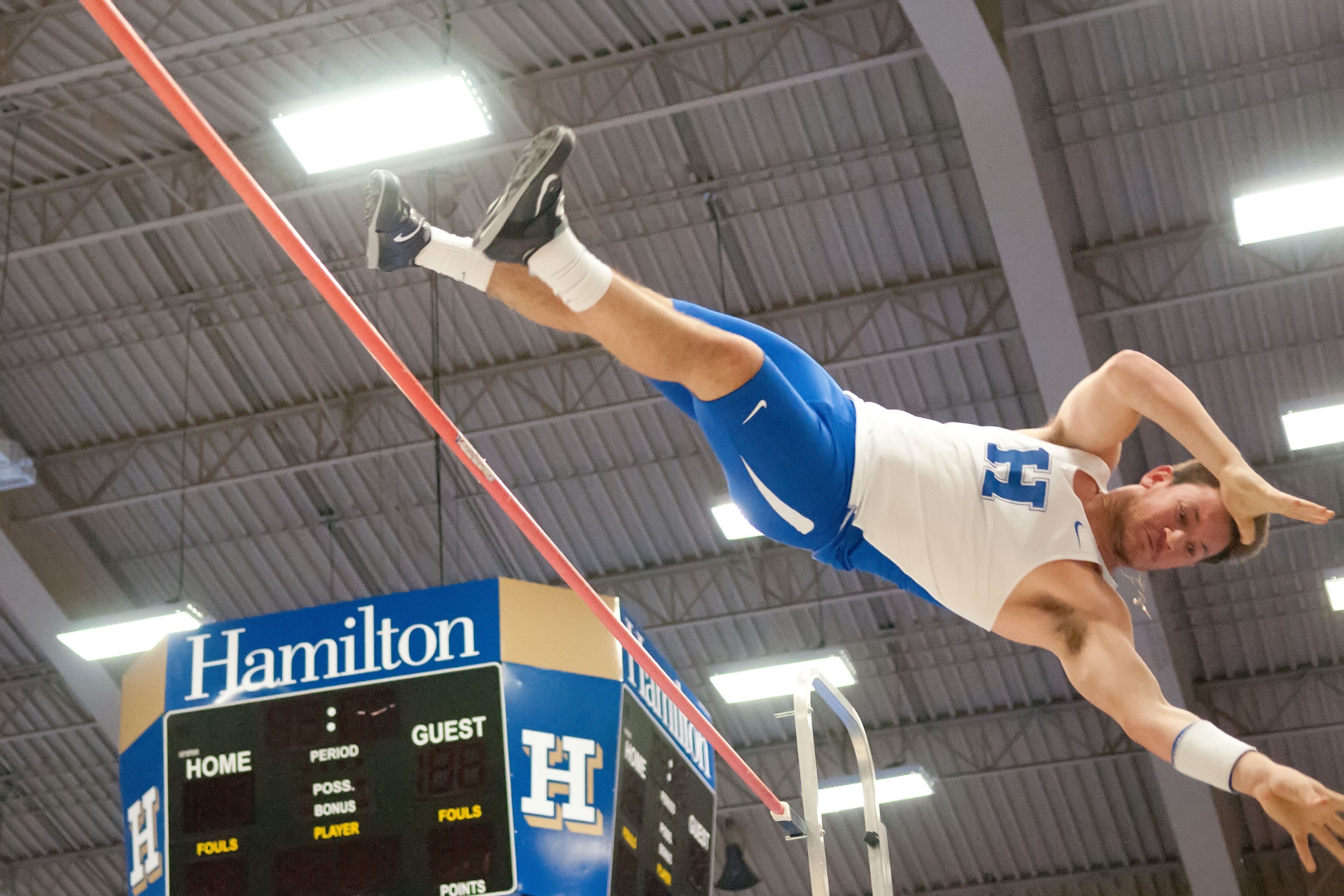 The Hamilton College men's track & field team hosted the annual Hamilton Invitational Saturday at Margaret Bundy Scott Field House. No team scores were kept at the event, where the Continentals posted six first-place finishes.

Complete results

Leading the way was double winner Eli Saucier '18, who claimed the 200-meter dash in 22.55 seconds and finished first in the 400-meter dash in 50.42.

Leonard Kilekwang '16 cleared 12.45 meters (40 feet, 10.25 inches) to win the triple jump and Dylan Berardelli '16 posted a winning mark of 15.22 meters (49 feet, 11.25 inches) in the 35-pound weight throw.

The Continentals took the top two places in two races – Andrew Mandelbaum '16 and Grant Whitney '17 were first and second in the 800-meter run with respective times of 2:02.27 and 2:02.58, and the top spots in the 3,000-meter run went to Jack Pierce '17 (8:58.07) and David Freeman '16 (9:04.07).

Ryan Sedwick '19 was third in the 60-meter dash (7.37) and took sixth in the 200 (23.80). Rico Gonzalez '16 cleared 4.00 meters (13 feet, 1.5 inches) in the pole vault to finish fourth.

Andrew Wink '19 led three Continentals in the top seven of the 1,000-meter run, taking third in 2:45.42. Ben Stoller '19 placed fifth in 2:48.82 and Adam Pfander '16 was seventh in 2:49.95.

Peter DeWeirdt '18 and Jack Moses '16 rounded out Hamilton's individual top-five finishers, placing fifth in the mile run (4:36.74) and 3,000-meter run (9:16.29). Pfander was sixth in the mile, clocking in at 4:37.79.

Nate Somes '16 finished sixth in the 400-meter dash (54.04), Max Newman '16 was eighth in the 60-meter dash (7.52) and Andrew Sinclair '18 placed eighth in the 800-meter run in 2:13.85.

Two Hamilton relays recorded runner-up finishes. The 800-meter foursome of Sedwick, Newman, Zach Pilson '16 and Gonzalez posted a time of 1:37.76. Saucier, Matthew McCarron '17, Somes and Whitney combined to run the 1,600-meter relay in 3:35.69.

The Continentals travel to Brockport Saturday for SUNY Brockport's Golden Eagle Invitational.