Sixteen Members of the Class of 2012 Elected to Phi Beta Kappa
---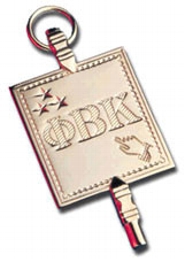 Sixteen members of the Class of 2012 were elected to the Epsilon chapter of Phi Beta Kappa at a meeting on Feb. 8.

The inductees are Anastassia Baldridge, Peter Benedict, Connor Brown, Caitlin Burzynski, Katherine Costa, Amy Dow, Edward Finan, Laura Gilson, Zane Glauber, David Hibbard, Lauren Magaziner, Emily Moulton, Kate Otley, Frances Sayler, Jacob Sheetz-Willard and Kristin Stenerson.

Phi Beta Kappa is the oldest and most prestigious honor society in the country. Students are elected to membership in recognition of their exceptional academic achievement in fulfilling the goals and purposes of the college.