Slow and Steady Wins the Race
---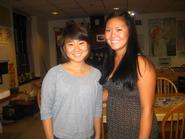 In our busy, cosmopolitan society, it's almost impossible to avoid fast food. Whether you see a McDonald's every day when driving to work, stop in at Dunkin Donuts before school, or see a commercial for Sonic on TV during your favorite primetime show, fast food is seemingly ubiquitous. At Hamilton, Lauren Howe '13 and Eunice Choi'14, however, are trying to make the transition from the fast food era toward a new, sustainable style of eating and living.

The Slow Food Movement, which was founded in 1989 to suggest an alternative to fast food, focuses on the concept of supporting locally grown food and farmers by eating healthy and sustainably. Slow Food supports the environment while still creating food options that are delicious and practical. There are currently 150 countries participating in Slow Food with more than 100,000 members worldwide.
Co-founders Howe and Choi were both inspired to start their own Slow Food Chapter by classes they took at Hamilton. Howe explained how her environmental studies class sparked her interest in Slow Food. "I took an environmental ethics class in the spring of my freshman year which piqued my interest regarding the environment and food. That, along with my women's studies classes, opened my eyes to the implications of our food choices." Just like Howe, Choi began thinking about Slow Food after taking the "Food for Thought" class her freshman year. This highly sought-after seminar discusses food, gardening, cooking and relevant issues that deal with food in society.
"Food is a vehicle for social change," Howe explained, expressing her passion for the movement. "It is important for students to realize the implications of their food choices." When asked about the food and eating habits of students at Hamilton, both Howe and Choi agreed that generally, Hamilton makes it fairly easy to eat sustainably and intelligently. "Bon Appetit does a great job of supplying the campus with locally grown meals, so a lot of the time, students don't realize when they're making good choices," Choi stated. "At the same time, eating healthy doesn't necessarily mean getting all the right nutrients…it's more about the people and places that produce it."
It didn't take long for the two students to found their own Slow Food chapter at Hamilton College, which they established in February, 2010.
Ever since the club's first few months, the members have been busy sending their message across campus and even across the nation. Last Spring, members of Hamilton's Slow Food Chapter traveled to Washington, D.C., for a four-day conference and rally called Power Shift. Power Shift assembled 10,000 students from across the United States who share a passion and awareness for some of the more prevalent environmental issues in our country, including food.
Howe and Choi, along with other executive board members Claire Zurlo '14 and Ellie Fausold '13, are working hard to make sure that Hamilton's student body stays educated about food choices. The Slow Food Chapter at Hamilton College hosts many events throughout the school year, such as farm trips, community service opportunities, and potluck dinners. The club is also gearing up for Power Shift New York, which is a smaller subset of Power Shift dedicated to the New York residents, which will take place in Albany toward the end of October.
The founders and executive board members are also planning to bring the "Five Dollar Challenge" to Hamilton College. The "Five Dollar Challenge," a feature popularized by the Slow Food Movement, is the seemingly difficult task of building a nutritious, well-balanced meal for the same price one would find on a fast food menu. While this may seem impossible to some, the reality is anything but. "Good, clean food shouldn't be expensive, and we want to show that to the rest of the community," Howe stated. She hopes to implement a demonstration where Hamilton students will cook their own meals and figure out the price down to the last cent.
The club is also looking forward to National Food Day, which takes place for the first time on Oct. 24. Inspired by Earth Day, Food Day is yet another opportunity for Hamilton students to think about what they eat and make conscious choices that may help support the local farmers of upstate New York.

So next time you're at Commons choosing between the pizza and the salad, think about your choice and how it will affect your life, as well as the lives of local farmers around you. To learn more about Slow Food, e-mail Howe at lhowe@hamilton.edu or Choi at mychoi@hamilton.edu, or by visiting the Slow Food website.