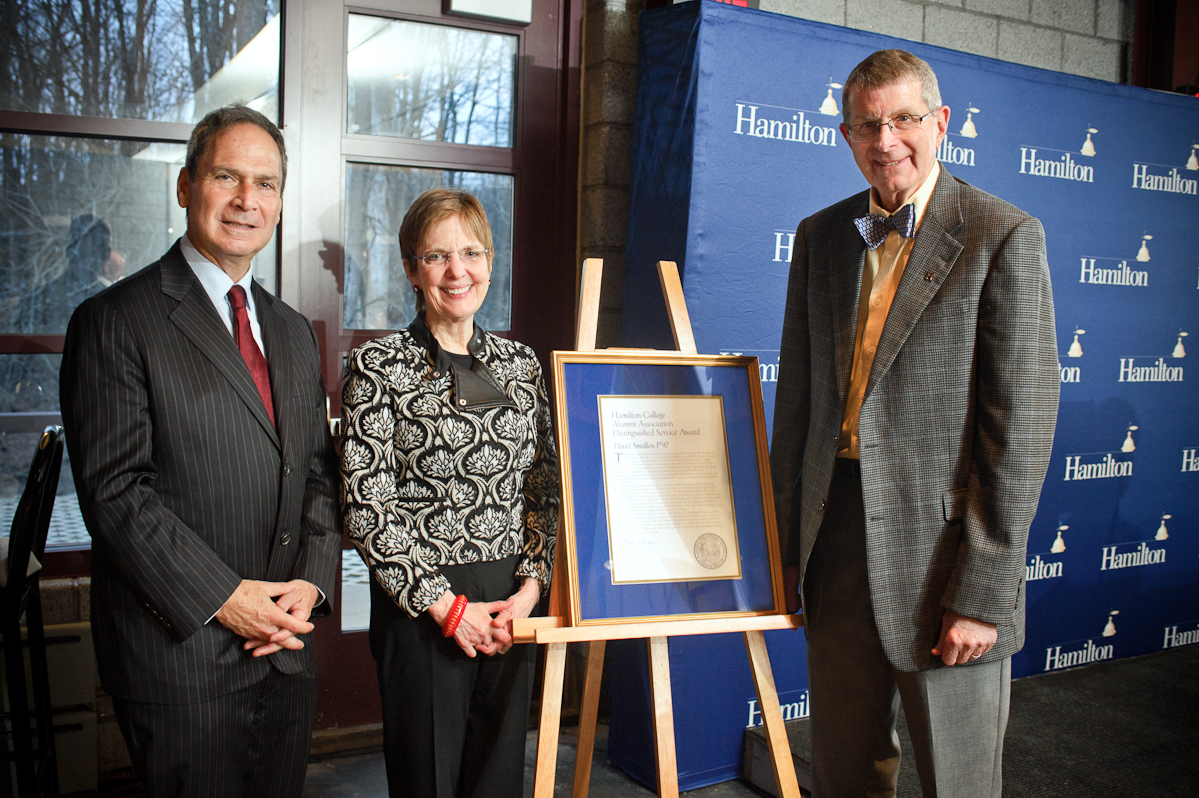 Vice President for Libraries and Information Technology David Smallen P'97, was honored as the 2016 Distinguished Service Award recipient by Hamilton's Alumni Association. Alumni Association President Gordon Kaye '74 presented the award on April 8 during the Alumni Council's Recognition dinner.
The Distinguished Service Award recognizes an employee who has substantially contributed to Hamilton through distinguished job performance and through involvement in student, alumni or other activities in the College community.
The citation awarded to Smallen summarized his contributions to Hamilton. "Through institutional efforts and personal acts, you've made Hamilton a better place for more than four decades… Over years of rapid change, you've kept Hamilton well positioned in vital technology. Among your recent accomplishments is overseeing the forward-thinking merger of IT and the library," it read.
In 1974 Smallen, an assistant math professor, became director of the new College computer center, which boasted a small computer used for administrative tasks and a link to Cornell's big IBM.
The citation continued, "Along the way you've earned a national reputation in educational technology. From cyber security to issues of social media, civility and free speech, your guidance has been invaluable to Hamilton.
"Your influence goes beyond technology. In your view, planning is fundamentally about inspiring people to think big and do their best, and you've had an impact on virtually every planning process the College has undertaken in the last dozen years or more. The Management Round Table you created brings together directors from across campus to discuss the latest developments in effective leadership. You identify the best prospective staff members, hire them and then make sure they stick around. As a mentor you provide generous feedback, nurture creativity and encourage colleagues to test new ideas. When there's a heavy workload to shoulder, you are the first to volunteer. You've served your community, too, as a member of the Clinton school board, including a stint as president.
The citation concluded, "With all that, you are a fixture on campus, often attending a Student Assembly meeting, grabbing lunch at a dining hall and joining the audience at student performances or athletic events. In memory of your son, Steven, you and your wife, Ann, created a scholarship that encourages student creativity. As for alumni, you are in demand as a guest at reunion class dinners and often take part in alumni events."
Also during Volunteer Weekend, Hamilton Pitch competition founders and judges Michael Fawcett '66 and Hedy Foreman were honored with College Key awards. The purpose of the College Key Award is to recognize individuals who have performed a service or activity that has directly benefited a specific volunteer program or the College in a tangible way.