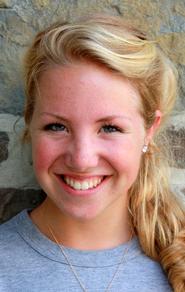 Hamilton College's Lainie Smith '16 (Bethlehem, Pa./Saucon Valley HS) ended up in 117th place out of 275 finishers at the 2014 NCAA Division III Women's Cross Country Championship, which was held at the Golf Center at King's Island in Mason, Ohio, on Nov. 22.

Results

Smith posted a time of 23 minutes, 22 seconds on the 6,000-meter course (3.73 miles). She was in 114th place after 3,100 meters with a time of 11:46.01. Amy Regan from Stevens Institute of Technology was the individual winner with a time of 20:51.9.

Smith qualified for the NCAA championship by being one of the first seven finishers who was not part of a qualifying team at the NCAA Atlantic Regional championships on Nov. 15. She finished in 13th place out of 272 runners and earned all-region honors with a personal-record time of 22:01.5. The top 35 finishers make the all-region team. Smith is the third different Hamilton woman to qualify for the NCAA cross country championship in the past two years.