Softball swept by Middlebury in doubleheader
---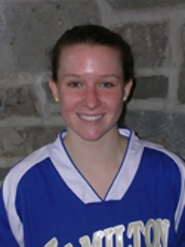 Middlebury College scored 30 runs on 27 hits as the Panthers swept a New England Small College Athletic Conference West Division softball doubleheader from Hamilton College at Hamilton's Ferguson Fields on April 16.

Middlebury (17-4 overall, 8-1 NESCAC West) won the first game 14-2, and shut out the Continentals 16-0 in the second game. Both contests were stopped after five innings due to the eight-run mercy rule. The Panthers extended their win streak to nine games.

Geena Constantin '11 led the Middlebury offense in Game 1 with two doubles, a single and six runs batted in. Megan Margel '11 and Emily Burbridge '11 were both 3-for-3 with three RBI. Margel doubled and Burbridge clubbed her third home run this year. Leslie Crawford '11 singled and scored three runs, Emily Kraytenberg '14 doubled and Sarah Boylan '13 drew three walks.

Ali McAnaney '11 improved to 6-1 as she allowed two runs on eight hits and a walk in five innings. McAnaney struck out three. She entered the game with a 1.56 ERA.

Lisa Faraci '13 was 3-for-3 with her sixth double and one RBI for Hamilton. Jen Rougeux '14 chipped in two hits and scored two runs. Leigh Sherrow '11 and Liz Reid '11 both doubled, and Mandy Hyne '11 added a single. Chelsea Merritt '14 pitched four-plus innings and took the loss.

The Panthers led 5-1 after four innings, but plated nine more in the fifth on six hits and two errors by the Continentals. Hamilton got one run back in the bottom of the frame, but it wasn't enough to extend the game another inning.

In Game 2, Middlebury scored four runs in the first and seven in the second, and cruised the rest of the way. Elizabeth Morris '14 allowed four hits and two walks and fanned nine in five shutout innings. Morris improved her record to 5-0.

Jessa Hoffman '13 doubled twice and hit her first home run. Hoffman finished with two RBI and four runs scored. Jessica Poracky '13 singled, doubled and drove in two runs. Kelsey Chisholm '11 had two hits, including her first double, and drove in a run. Margel went 2-for-2 with three runs scored and an RBI. Constantin doubled and drove in three runs, Kraytenberg drove in two runs with a single and Nellie Wood '11 tripled.

Rougeux went 3-for-3 for the Continentals. She had six hits in nine at-bats in the weekend series. Ally Martella '13 also singled. Summer Bottini '14 started in the circle and took the loss. Bottini allowed six runs on five hits and three walks in one-plus inning.

Hamilton is scheduled to host Cazenovia College for a non-conference doubleheader on Tuesday, April 19. The Panthers return home to take on Lyndon State for two games on Tuesday.