Softball drops NESCAC West doubleheader to Wesleyan
---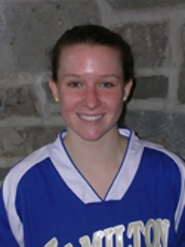 Wesleyan University scored 24 runs on 27 hits in a sweep of a New England Small College Athletic Conference West Division softball doubleheader against Hamilton College at Hamilton's Ferguson Fields on April 30.

Wesleyan (11-19 overall, 5-6 NESCAC West) stopped a five-game losing skid with the 10-0 and 14-6 victories. The Cardinals won both games in six innings due to the eight-run mercy rule.

The Continentals (6-23, 0-11) have lost nine of its last 10 games. The two teams wrap up their weekend series at Hamilton with a single game on Sunday, May 1.

In Game 1, Dana Levy '12 allowed just four hits in the complete game shutout. Levy walked one and struck out two. She also went 2-for-4 with two runs scored. Matti Peters '13 led the Wesleyan offense with three doubles and one RBI. Talia Bernstein '11, Sam Epstein '12 and Amy Lindland '14 drove in two runs each. Bernstein, Lindland and Alexis Kral '12 finished with two hits each. The Cardinals broke open a close game with an eight-run sixth inning.

Sam Miller '14 had two hits, including her fifth double, for the Continentals.
In Game 2, Tori Redding '13 posted three doubles and four RBI for Wesleyan. Levy smashed her sixth home run and ended up 2-for-4 with two RBI and three runs scored. Chrissy Bello '12 singled, doubled and drove in two runs. Kral was 2-for-2 with a double and one RBI. Laura Getchell '14 picked up the win as she allowed four earned runs on six hits, walked three and fanned six in 5.1 innings.

Melissa Kaknis '13 was 2-for-2 with two doubles and two runs scored for Hamilton. Leigh Sherrow '11 and Liz Reid '11 both doubled and drove in one run apiece. Jen Rougeux '14 went 2-for-3 with one RBI.

The Continentals led 2-1 after three innings, but the Cardinals took control with six runs in the top of the fourth. Wesleyan -- leading 7-3 through five -- clinched the win with seven more runs in the sixth.