Softball blanked at Williams
---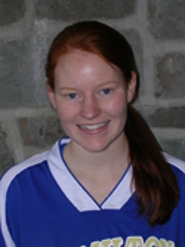 Williams College's Emma Harrington tossed a three-hit shutout and the Ephs topped Hamilton College 3-0 in a NESCAC West Division game at Williams' Cole Field on April 26.

Hamilton (11-19 overall, 1-9 NESCAC West) had won its previous four games. The teams meet again for a doubleheader on Saturday, April 28, and Game 1 begins at noon.

Harrington (10-6) fanned seven and walked just one in seven innings. Erica Li was a perfect 3-for-3 with a double, two runs scored and a pair of stolen bases. Mo Frank singled and drove in two runs, and Kacey Cramer smacked a triple and knocked in a run.

Olivia Gozdz '16 and Sam Miller '14 doubled, and Melissa Kaknis '13 picked up a base hit for the Continentals. Gozdz has 43 hits and extended her hit streak to 10 games. Kelly Leonard '15 (7-12) had a 19-inning scoreless streak come to an end as she gave up three runs on six hits, struck out two and walked none.

Gozdz led off the top of the first inning with a double to right field. But Harrington struck out the next three batters and stranded Gozdz at second.

Williams (14-19, 6-4) grabbed a 1-0 lead in the bottom half of the inning. Li beat out a slapper to shortstop with one away, stole second and scored on Cramer's two-out triple to right center.

The Ephs added two more runs in the bottom of the third inning. Theresa Legan and Li led off with singles. A fielder's choice by Ali Graebner, a pop out by Cramer and a double steal left runners on second and third with two outs. Frank's single through the right side drove in Graebner and Li.

The Continentals tried to rally with two outs in the fifth inning. Chelsea Merritt '14 was hit by a pitch and Gozdz walked, but Harrington ended the inning with a strikeout. Hamilton didn't have any runners past first base in the final two innings.