Softball downed twice in Florida
---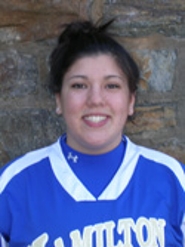 Hamilton College lost non-conference games against NYU-Poly and SUNY Potsdam at the Cape Coral Sports Complex in Cape Coral, Fla., on March 16.

NYU-Poly (4-6 overall) recovered from 1-0 and 3-2 deficits to defeat Hamilton 6-3. The winners scored four runs in the top of the sixth inning.

Potsdam (7-5) jumped on top early with a six-run first inning and went on to an 11-3 victory. The game was stopped in the bottom of the sixth when the Bears' lead grew to eight runs. After the Continentals (2-4) pulled within 6-3 in the fourth inning, Potsdam clinched the win with two runs in the fifth and three more in the sixth.

Against NYU-Poly, Melissa Kaknis '13 went 3-for-3 with a double and two runs batted in for Hamilton. Ashley Perritt '14 and Ellie Kiernan '15 posted two hits apiece. Monique St. Jarre '15 took the loss in the circle.

Against Potsdam, Katie Puccio '15 cracked a double for the Continentals' lone extra-base hit. Amy Appel '13 was saddled with the loss.