Softball drops doubleheader to Williams
---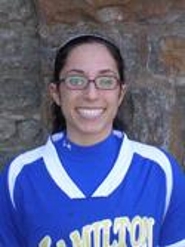 Hamilton College was edged by Williams College 6-2 in the first game, and lost 8-0 in five innings in Game 2 of a New England Small College Athletic Conference West Division doubleheader at Ferguson Fields on April 24.
Amy Appel '13 started Game 1 for Hamilton (4-21 overall, 0-11 NESCAC West) and took the loss. Appel pitched five innings and allowed four runs on six hits. Mandy Hyne '11 came in to pitch the sixth and seventh innings. Hyne allowed two unearned runs on four hits.
Lisa Faraci '13 hit a double, a single and drove in two runs. Rachel Rapoza '10 finished with two hits. Liz Farrington '10, Kristen Pallen '12 and Appel each hit one single.
Williams (14-18-1, 7-2) jumped out to a 2-0 lead in the top of the first inning. The Continentals scored their first run in the bottom of the fourth when Faraci was hit by a pitch with the bases loaded to make it 2-1. The Ephs added two more runs in the fifth to go up 4-1. A double by Faraci in the sixth drove in Appel with Hamilton's second run. Williams plated two runs in the top of the seventh for the final margin.
Appel (3-15) started Game 2 and took the loss after facing five batters. Appel allowed three runs on four hits, before Hyne came in to relieve her with one out in the first inning. Hyne pitched the final 4.2 innings as the game ended after five innings because of the eight-run mercy rule. Hyne allowed five runs on seven hits.

Appel recorded her second double of the season. Hyne had two singles and Faraci had one.
The Ephs scored three runs in the first inning, including two on a home run. They added one in the third and one in the fourth. In the fifth, two runs scored on a Ephs' double, and the final run was plated on a ground out to third.

Hamilton travels to St. Lawrence University for a non-conference doubleheader on Tuesday, April 27, at 4 p.m.