Late Amherst rally takes down softball
---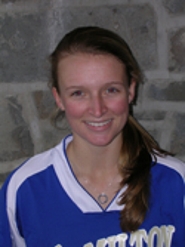 Theresa Kelley '13 allowed one earned run in seven innings and scored the go-ahead run to lead Amherst College to a 6-3 win over Hamilton College in a NESCAC West Division game at Hamilton's Ferguson Fields on April 13.

Amherst (25-1 overall, 4-0 NESCAC West) pulled ahead with three runs in the top of the seventh inning. The Lord Jeffs started the season 22-0 and have won three games in a row. Hamilton has lost its last six games.

Kelley improved her record to 15-0 in the circle. She scattered five hits, walked two batters and struck out seven. Kelley went 2-for-3 with a double at the plate. Kelsey Ayers '15 was a perfect 4-for-4 to pace the Amherst offense. Carly Dudzik '12 and Idalia Friedson '15 smacked triples, and Donna Leet '15 doubled. Kaitlin Silkowitz '14 collected two hits and drove in a run.

Ashley Perritt '14 had two hits, including a double, and drove in a run for the Continentals. Ellie Kiernan '15 singled twice and scored a run, and Cara Vennari '12 added a single and a run. Starting pitcher Kelly Leonard '15 allowed three earned runs in 6.1 innings. Leonard didn't issue a walk and struck out six batters. Perritt recorded the final two outs of the sixth inning, faced two batters in the seventh and suffered the loss.

Hamilton (6-17, 0-7) struck first with three runs in the bottom of the fifth inning. Vennari lined a one-out single to left field and Kiernan reached on a single to first base. Perritt laced an RBI double to left center that scored Vennari. Jenn Rougeux '14 followed with a fielder's choice, and Kiernan was able to score on a throwing error. Katie Puccio '15 capped the inning with a fielder's choice that scored Perritt.

Amherst responded with three runs in the top of the sixth inning to tie the score. Reilly Horan '13 reached on a one-out error and scored on Dudzik's triple. Carolyn Miller '14 followed with a single to left field that scored Dudzik, and Friedson tied the score with a triple that scored Miller.

The Lord Jeffs pulled ahead with three runs in the top of the seventh inning. Kelley led off with a double down the right field line and moved to third base on Ayers' single. Silkowitz sent a single through the left side that scored Kelley and moved Ayers to third. Silkowitz was caught trying to steal second base, but Ayers was able to score on the throw. Leet followed with a double to left center, and Horan closed the scoring with a single up the middle that plated Leet.

Hamilton hosts Amherst again for a NESCAC West doubleheader on Saturday, April 14, at noon.