Softball edged in extra innings at Middlebury
---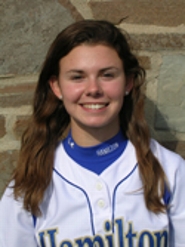 Middlebury College scored three runs in the top of the eighth inning and held on for a 10-8 victory over visiting Hamilton College in a NESCAC West Division game on April 14.

The Continentals (7-18 overall, 1-8 NESCAC West) were supposed to host the three-game set, but heavy rain in Central New York forced the series to move to Vermont. Hamilton has either postponed or moved 12 home games this year. Middlebury (16-6, 5-1) has won 11 straight contests.

Carlyn Vachow went 2-for-4 with a home run and three RBI for the Panthers. Vachow was one of six Middlebury players with multi-hit games. Jessica Poracky finished with two hits and three RBI and Kimber Sable and Jackie Stern had two hits and scored two runs apiece. Emily Kraytenberg collected a triple and a single, and Sarah Boylan drove in two runs.

Elizabeth Morris (8-1) allowed five runs -- just two earned -- on seven hits in 4.1 innings of relief for the Panthers. Neve Stearns started in the circle and gave up three runs on five hits in 3.2 innings.

Kelly Leonard '15 was 2-for-4 with two RBI for Hamilton. Leonard (4-11) tossed her NESCAC-best 12th complete game this year and struck out four batters. Olivia Gozdz '16, Sam Miller '14 and Monica St. Jarre '15 had two hits each. Gozdz recorded her ninth double and Miller and St. Jarre scored two runs apiece.

After a scoreless first two innings, Middlebury plated a run in the third and fourth innings. Alex Scibetta led off the third inning with a single and moved to second on Sable's sacrifice bunt. Scibetta advanced to third when Jessa Hoffman reached on an error and scored on a wild pitch. Vachow led off the fourth with a walk, made her way to third on Kraytenberg's single and scored on Sarah Boylan's ground out.

Hamilton scored three runs in the bottom half of the fourth and took a 3-2 lead. Consecutive two-out singles by Miller and St. Jarre put runners on first and second. Lisa Faraci '13 doubled to right field and scored Miller, Leonard drove in another with an infield single and the last run came across on a throwing error.

Middlebury responded with four runs in the fifth and reclaimed the lead at 6-3. After Sable doubled and Stern singled, Hoffman tied the score with a single through the left side. Poracky doubled to the base of the wall in right center and drove in two more runs. Leonard retired the next two batters, but Boylan hit a single to left that drove in Poracky.

The Continentals cut their deficit to 6-5 with two runs in the bottom of the sixth inning. Back-to-back fielding errors put Miller and St. Jarre at first and second base, and a wild pitch and passed ball allowed Miller to score. Faraci walked and Leonard's ground out plated St. Jarre.

Vachow smashed a solo home run with one out in the seventh that gave Middlebury an insurance run and a 7-5 lead. But Hamilton scored two in the bottom of the inning and tied the score. Gozdz led off with a double to right center and Jenn Rougeux '14 walked. They moved up to second and third on a ground out and scored on consecutive singles by Melissa Kaknis '13 and Miller.

In the eighth inning, Middlebury loaded the bases with no outs. Poracky's sacrifice fly to center brought in the go-ahead run and Vachow extended the lead with a two-run single to right field. Hamilton made things interesting in the bottom of the eighth as Leonard scored on Rougeux's single. The Continentals had the tying run on first base, but Morris induced a ground ball to third for the last out.

Hamilton hosts SUNY Potsdam for a non-conference doubleheader on Thursday, April 18.