Softball edged twice by Amherst
---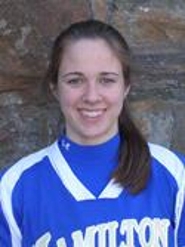 Hamilton College dropped two New England Small College Athletic Conference West Division games to Amherst College at Rensselaer's Doris Robison Field in Troy, N.Y., on April 20.
Hamilton (4-18 overall, 0-8 NESCAC West) fell 5-1 in the first game, and lost 4-2 in eight innings in the nightcap. Amherst improved its record to 15-11 overall, 3-2 in conference play. The doubleheader was originally scheduled to be held in Clinton, N.Y., on April 17, but was postponed due to inclement weather.
Amy Appel '13 started Game 1 for Hamilton, pitched the first five innings and took the loss. Appel allowed three earned runs on seven hits and struck out three batters. Mandy Hyne '11 came in to pitch the final two innings.
Lisa Faraci '13 and Liz Farrington '10 each finished 2-for-3 with two singles. Liz Reid '11 hit one single and drove in a run. Hyne finished with one single.
Amherst jumped out to a 2-0 lead in the top of the first on four base hits and added two more runs in the third. In the bottom of the sixth, Faraci led off with a single to center. Leigh Sherrow '11 laid down a sacrifice bunt to advance Faraci to second. Faraci reached third on a wild pitch, and scored Hamilton's lone run on a two-out single by Reid. The Lord Jeffs scored one more run in the seventh for the final margin.
In Game 2, Appel (3-12) pitched all eight innings and allowed three earned runs on nine hits. Reid hit her third triple of the season and drove in both runs. Cara Vennari '12, Melissa Kaknis '13 and Faraci each finished with one single.
The Lord Jeffs scored one run in the first inning and went up 2-0 in the top of the third. The Continentals responded with two runs to tie the score in the bottom of the inning. Vennari reached first on an error by the right fielder. Faraci singled to left, and with two outs, Reid tripled to drive in both runs.
Neither team broke the tie over the next four innings, which sent the game into an extra inning. In the top of the eighth, the Lord Jeffs led off with three straight doubles to score two runs. Vennari started the bottom of the eighth with a single, but Amherst made three straight outs to secure the win.
The Continentals host Williams College for a NESCAC West Division series this weekend. The teams play a single game on Friday, April 23, and a doubleheader on Saturday, April 24.