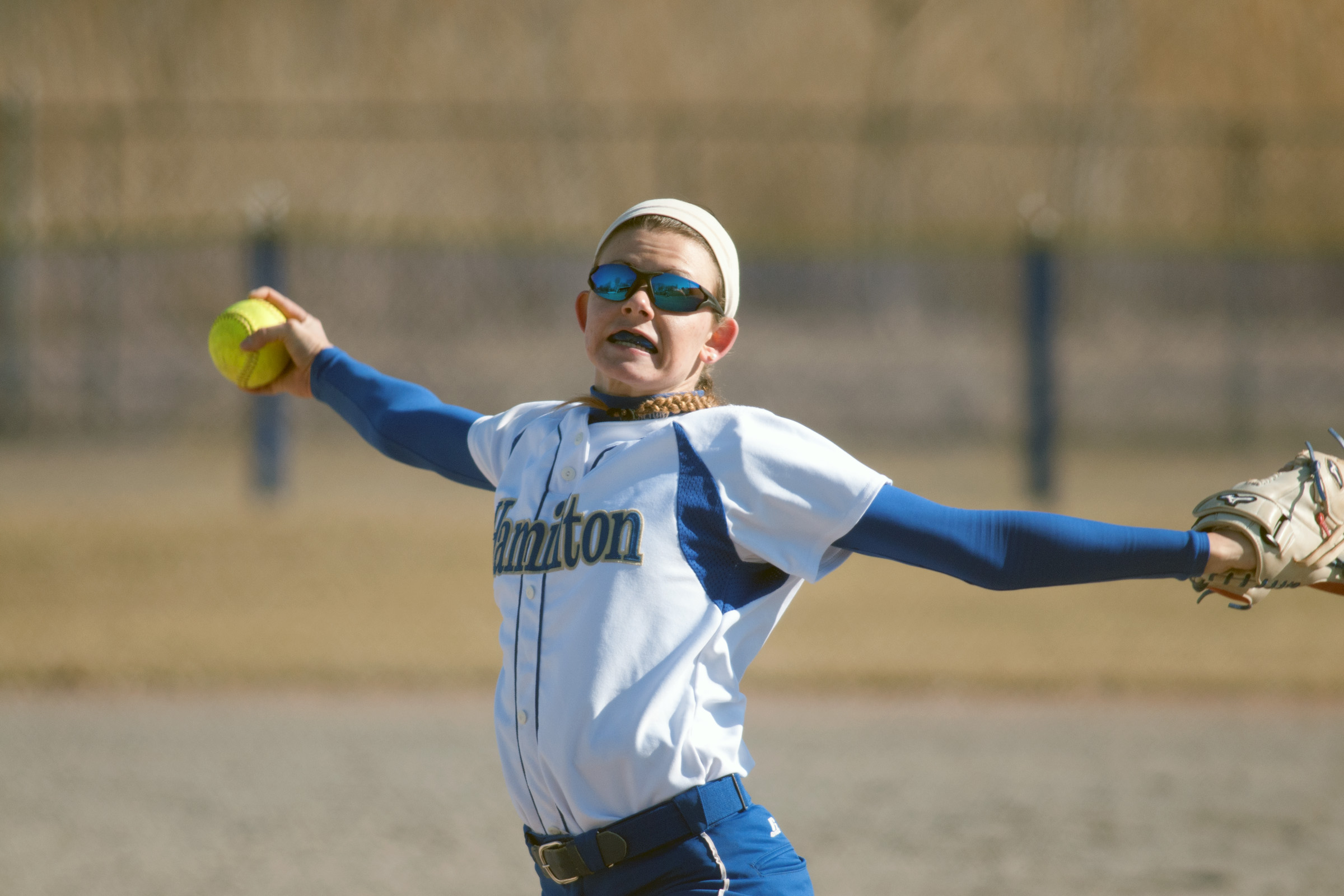 The Hamilton College softball team swept host Skidmore College 3-0 and 4-0 on Tuesday to finish the 2015 season with 15 wins, tying the team record set in 1996.

Game one box score | Game two box score

Tuesday's wins marked the first time Hamilton (15-17 overall) swept a doubleheader with shutouts in both games since blanking Morrisville State College 5-0 and 8-0 on April 1, 2010.

Kelly Leonard '15 blanked the Thoroughbreds (14-20) on six hits for her ninth career shutout in the opener and Zoe Singer '18 threw six shutout innings in game two.

Leonard earned her 11th win of the season – one short of the school record – and finished her career with 33 victories (second on the program's all-time list). She worked out of a seventh-inning jam after the first two Skidmore hitters singled, bringing the tying run to the plate.

Monique St. Jarre '15 put the Continentals up 1-0 in the second, following a one-out double by Ellie Kiernan '15 with a run-scoring single up the middle. Hamilton tacked on a pair of unearned runs two innings later. Daphne Assimakopoulos '17 and Singer hit consecutive singles with one out then moved up on a ground out before both scored on a Skidmore error. Assimakopoulos' single extended her hitting streak to 12 games.

Leonard finished with two of Hamilton's nine hits.

Lauren Gorstein '17 and Cassie Fishkin '16 led off the Skidmore seventh with singles before Leonard shut down the threat with a fly ball to right and two fielder's choice groundouts for her third shutout of the season.

In the nightcap, Singer kept Skidmore off the board for six innings before Leonard closed out the sweep with a perfect seventh. Singer (3-2) allowed just one hit – a second-inning single by Casey Attonito '18 that was erased by a double play – and one walk.

Hamilton got on the scoreboard in the third after Phoebe Collins '18 doubled with two outs. A pair of Skidmore errors brought her home with the game's first run.

The Continentals pulled away from the one-run lead with three runs in their final two at bats. Olivia Gozdz '16 drove in a run with a double then scored on another Thoroughbred error. The double was the 34th of her career, breaking Hamilton's school record.

Seventh-inning doubles by St. Jarre and Hannah Staab '17 closed out the scoring.

Hamilton's 15 wins included a team-record five in NESCAC West Division play. The Continentals have won 41 games over the past three seasons, marking the program's winningest three-year stretch.