Softball falls to Williams in NESCAC West game
---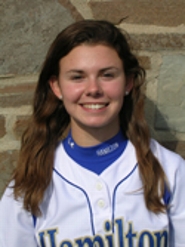 Lindsey Precht '15 finished with three hits and four RBI to lead Williams College to an 11-7 win against Hamilton College in a NESCAC West Division game at Hamilton's Ferguson Fields on April 27.

Williams (18-16 overall, 5-5 NESCAC West) pounded 14 hits, including eight for extra bases. The Ephs have won three straight games. The two teams meet again at Hamilton for a NESCAC West Division doubleheader on Saturday, April 28, at noon.

Precht smacked her fourth double as part of a three-run seventh inning. Allison Hart '12 homered, doubled and finished with three hits and three RBI. Hart entered the week leading the NESCAC in batting average.

Ally Ensor '14 cracked two doubles, and Zoe Dillon-Davidson '15 and Mo Frank '15 each added one. Merrilee Weston '13 tripled and drove in a run. Megan Casey '13 started in the circle and surrendered three earned runs in seven innings of work. Casey walked two batters and fanned two.

Kelly Leonard '15 led the Continentals' offense with a three-run double. Ellie Kiernan '15 and Katie Puccio '15 added two hits apiece, and Monique St. Jarre '15 smacked a double. Ashley Perritt '14, Jenn Rougeux '14, Sam Miller '14 and Melissa Kaknis '13 each added a hit, and Kaknis scored a pair of runs.

Leonard pitched four innings, walked one batter, struck out two and suffered the loss. Leonard's 112 strikeouts set the program's single-season record. Amy Appel '13 tossed the final three innings in relief.

Williams jumped out to a 4-0 lead in the top of the second inning. With one out, Kaitlin Dinet '13 was hit by a pitch, stole second and moved to third on a fielder's choice off the bat of Weston. Precht followed with a two-run single that scored Dinet and Weston. Frank lined a ground-rule double to right to score Precht, and Hart doubled to left to bring home Frank.

Hamilton (9-21, 0-10) pulled to within 4-3 in the bottom of the third inning. Kiernan reached on an error to lead off and moved to third on Perritt's single up the middle. One batter later, St. Jarre hit a double to left center that scored Kiernan. Miller followed with an RBI groundout that plated Rougeux, and Kaknis lined a single off the pitcher that brought home St. Jarre.

Williams responded with four runs in the top of the fourth inning to take an 8-3 lead. Weston led off with a triple to right and scored on Precht's single to left. One batter later, Hart sent a blast over the fence in left to cap the inning.

With two outs in the bottom of the fifth inning, Miller singled and advanced to second on a throwing error. Kaknis walked and Puccio singled to load the bases. Leonard followed with a double to center that scored everyone and pulled the Continentals to within 8-6.

The Ephs tacked on three runs in the top of the seventh inning with an RBI single by Dinet, a sacrifice fly by Weston and Precht's RBI double. Hamilton got a run back in the bottom half of the inning when Vennari's sacrifice fly to left brought home Kaknis for the final margin.