Softball falls twice in Florida
---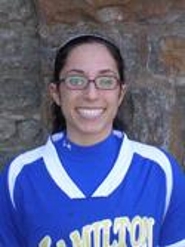 Hamilton College dropped its first game 5-0 to SUNY New Paltz, and fell 9-1 to SUNY Brockport in Cape Coral, Fla., at the Cape Coral Sports Complex on March 18.
The Hawks (4-4 overall) took a 1-0 lead in the second inning. They added two runs in the fourth and two more in the fifth, while holding the Continentals (0-6) scoreless.
Amy Appel '13 started and pitched six innings for Hamilton. Appel allowed four earned runs on eight hits, struck out three and walked two. Lisa Faraci '13 hit a double to open the first inning, and Liz Farrington '10 singled in the second inning.
In the second game of the day, SUNY Brockport (9-1 overall) jumped out to a 1-0 lead in the first. Brockport added four runs in the third and one in the fourth for a 6-0 cushion.

The Continentals got on the scoreboard with one run in the bottom of the fourth to make the score 6-1. Brockport stretched its lead with two runs in the fifth and one more in the sixth. The game was stopped after six innings due to the eight-run mercy rule.
Mandy Hyne '11 started and pitched three innings. Hyne allowed five earned runs on six hits. Appel came on to pitch the final three innings, and allowed two earned runs on four hits. Faraci hit three singles, and Rachel Rapoza '10 and Kristen Pallen '12 added one single apiece. Cara Vennari '12 drove in the run.