Softball loses both ends of doubleheader
---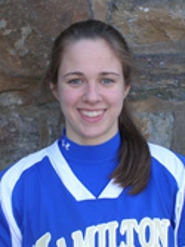 Williams College swept Hamilton College in a New England Small College Athletic Conference West Division doubleheader at Williams' Cole Field on April 22.

Williams (13-11-1 overall, 4-4 NESCAC West) blanked the Continentals 5-0 in the opener. The Ephs won the second game 10-2 in five innings as the eight-run mercy rule was put into effect.

Hamilton (5-19, 0-8) mustered four hits in Game 1. Sam Miller '14 and Cara Vennari '12 had one double apiece. Lisa Faraci '13 and Leigh Sherrow '11 both singled. Chelsea Merritt '14 started in the circle and pitched five innings. Merritt allowed five runs on seven hits. Mandy Hyne '11 tossed one inning of scoreless relief.

In Game 2, Liz Reid '11 singled in both runs in the top of the fifth inning for the Continentals. Pinch-hitter Kristin Schwam '13 and Sherrow both singled and scored a run. Faraci and Jen Rougeux '14 added one hit apiece. Merritt started in the circle again, and allowed six runs on four hits and three walks in two innings.

The teams will try to get in the third and final game of this series at Williams on Saturday, April 23, at 2 p.m.