Softball opens 2012 with split in Florida
---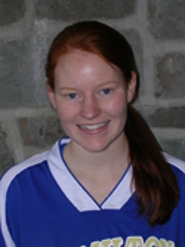 Hamilton College opened 2012 with an 8-1 win against Albright College and an 11-1 loss in six innings against North Park University in non-conference games at the Cape Coral Sports Complex in Cape Coral, Fla., on March 13.

Against Albright, Jenn Rougeux '14 led Hamilton's offense with three hits and two runs batted in. Sam Miller '14 added two hits, including a double, and drove in three runs. Katie Puccio '15 singled and doubled.

Amy Appel '13 pitched the first four innings and picked up the win. Appel allowed one unearned run on seven hits, walked two and struck out one. Kelly Leonard '15 tossed the final three scoreless innings and earned the save. Leonard allowed five hits and fanned three.

Albright (0-1 overall) grabbed a 1-0 lead in the bottom of the third inning. The Continentals took the lead for good with four runs in the fifth, and plated two more in both the sixth and seventh innings for good measure. Miller cracked a two-run single in the sixth.

North Park (4-2) jumped on top early with three runs in the top of the first inning and one in the second. The Vikings added two more runs in the fourth and clinched the win with five runs in the sixth. The game was stopped after six innings due to the eight-run mercy rule.

Danielle Warner pitched all six innings for North Park. Sonya Le smacked two doubles and Katie Anderson had one.

Miller drove in Ashley Perritt '14 for Hamilton's lone run in the fourth. Miller, Perritt and Melissa Kaknis '13 had one single each for the Continentals. Leonard pitched the first four innings and took the loss.