Softball opens Middlebury series with loss
---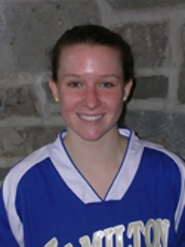 Alexa Lesenskyj pitched four shutout innings and Middlebury College cruised to an 8-0 win against Hamilton College in a NESCAC West Division game played in Middlebury, Vt., on April 6.

The Panthers (11-7 overall, 1-0 NESCAC West) won their third straight game and sixth in their last seven. The teams play two more games on Saturday, April 7. First pitch of the opener is scheduled for noon.

Lesenskyj allowed four hits and struck out seven without walking a batter. Elizabeth Morris pitched a scoreless fifth inning despite giving up a hit and two walks. The game was stopped in the bottom of the fifth due to the eight-run mercy rule.

Emma Katz paced Middlebury's offense by going 2-for-2 with a triple and a run batted in. Sarah Boylan led off the bottom of the third inning with a home run, and Emily Kraytenberg doubled. Alex Scibetta and Jessica Poracky finished with two hits apiece, and Jessa Hoffman drove in two runs.

For Hamilton (6-12, 0-4), Jenn Rougeux '14 went 2-for-2 and Ashley Perritt '14, Katie Puccio '15 and Monique St. Jarre '15 all singled. Perritt extended her hit streak to eight games. Kelly Leonard '15 allowed three earned runs on 11 hits, walked two and fanned five in 4.2 innings.

Hamilton had a chance to change the complexion of the game in the first inning. The Continentals opened with consecutive singles and had runners on second and third with no outs. Lesenskyj got out of the jam by enticing a pair of infield putouts from the No. 3 and 4 hitters before striking out Melissa Kaknis '13 to end the threat.

The Panthers exploded for five runs in the second. Kraytenberg opened the frame with a double, and with runners on second and third and one out, Alyson Downing plated Kraytenberg with a sacrifice fly to center. With two outs and the bases loaded, Hoffman reached on a fielding error that allowed two more runs to score. Poracky followed with an RBI single for the 5-0 lead.

Boylan's homer in the third inning made it 6-0, but Hamilton was in position to strike back in the fifth with runners on first and second and no outs. A line drive to Hoffman at shortstop turned into a double play at first base, and Morris struck out the next batter.

In the bottom of the fifth, the Continentals missed a putout for a fielder's choice that loaded the bases with one out. Leonard struck out the next batter, but Hoffman delivered a sharp single through the left side that scored two runs and ended the contest.