Softball player named to all-region team
---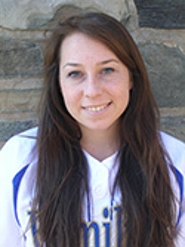 Hamilton College softball player Olivia Gozdz '16 (Darien, Conn./Darien HS) has been selected to the 2013 Division III New England Region All-Region Team by the National Fastpitch Coaches Association.

2013 Division III New England All-Region Teams

Gozdz was one of 15 players on the region's second team and one of only four first-year outfielders on any of the three New England all-region teams. She was the first Hamilton player ever voted to the NESCAC all-conference first team earlier this month. Gozdz is the team's first all-region selection since 1990.

Gozdz enjoyed a remarkable rookie season and is ranked second in the NESCAC with a .472 batting average. The outfielder set a program single-season record with 50 hits and finished one shy of tying the single-season mark in doubles with 12. She is ranked fourth in the conference with a .504 on-base percentage and seventh with a .604 slugging percentage, and led the team with 23 runs scored. Gozdz ended the year on a 15-game hit streak and posted 17 multi-hit games.