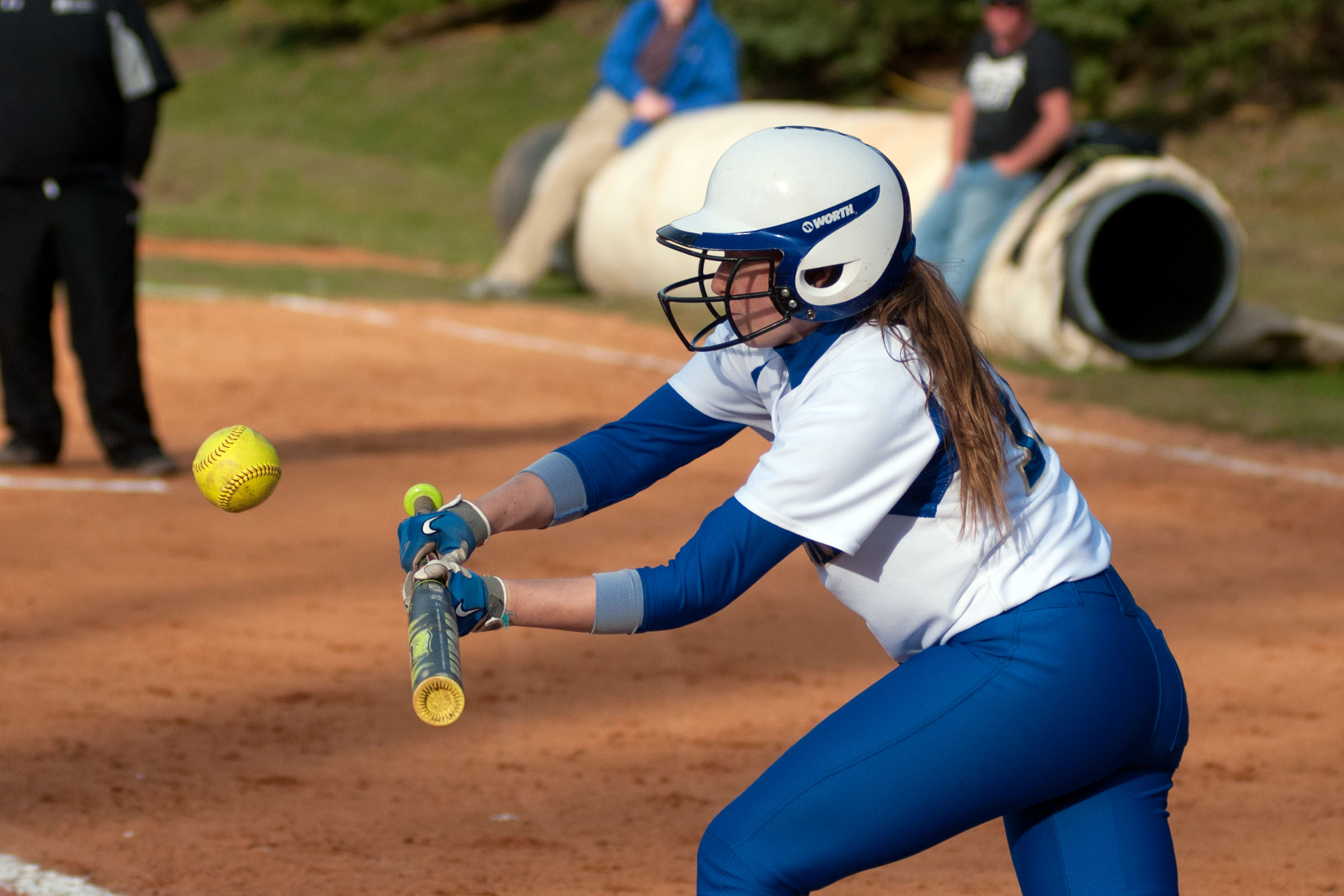 The Hamilton College Continentals rallied for an 8-5 win in game two and earned a split of their NESCAC West Division doubleheader against the Amherst College Lord Jeffs at Hamilton's Ferguson Field on Saturday afternoon.

Game one box score | Game two box score

The Continentals (12-21, 3-9 NESCAC West) scored five runs in the fourth inning to erase Amherst's 5-3 lead and retired nine of the last 10 Lord Jeff batters.

Amherst (20-10, 6-6) entered the weekend seventh in the NCAA Northeast Region rankings. The Jeffs came from behind and posted a 6-5 win in the opener.

Hamilton strung together five consecutive hits in the fourth inning with Sarah Moore '16 tying the score on an RBI single and Chelsea Merritt '14 singling in the go-ahead run.

Hannah Staab '17 led off the Continentals' fourth with an infield single and was bunted over to second. Ellie Kiernan '15, who had a career-best four hits, singled for the first of five straight hits. Sam Miller '14 doubled home Staab to cut Amherst's lead to 5-4 and Moore followed with a single to left that brought Kiernan home with the tying run. Merritt's single to second base put the Continentals ahead to stay and run-scoring singles by Becca Butler '17 and Jenn Rougeux '14 gave Hamilton a pair of insurance runs.

Kelly Leonard '15 (7-12) earned the win with five innings of one-run relief. She set the Jeffs down in order in the fifth, allowed a one-out double in the sixth and closed out the victory by retiring the side on seven pitches in the seventh.

The Jeffs scored four runs with a two-out second-inning rally to take a 4-1 lead before Hamilton picked up a run in the bottom of the inning. A run-scoring double by Brianna Cook '16 extended Amherst's lead to 5-3 and set up the hosts' five-run rally.

Sarah McKay '16 started Amherst's outburst in the second inning, fouling off six pitches before reaching on a single to left. After Nicolette Miranda '16 singled, Kaitlin Silkowitz '14 singled in a run, Kelsey Ayers '15 added a two-run base hit and Donna Leet '15 closed out the rally with an RBI single.

Both Kiernan and Miller drove in a run in the second and pulled the Continentals to within a run. Miller, Butler, Rougeux and Staab each finished with two of Hamilton's 15 hits. Miller's two runs batted in extended her career record to 79.

In game one, the teams combined for 11 runs in the sixth and seventh innings, and the lead changed hands in both halves of the last two innings. The game had been scoreless after five with the teams combining for a total of just five hits.

Amherst capitalized on a pair of Continental errors to score four runs in the top of the seventh for a 6-3 lead. Hamilton scored twice in the bottom of the inning and put the tying and go-ahead runs on base before the Jeffs closed out the win.

Pinch-hitter Carolyn Miller '14 and Silkowitz opened the seventh with singles. A bunt by Ayers was thrown away for the Jeffs' first run, and the tying and go-ahead runs scored on another throwing error during an attempted rundown with Silkowitz caught between third base and home. Leet scored Amherst's final run on an infield groundout off the bat of Cook.

Merritt coaxed a one-out walk after falling behind 1-2, and one out later Talia Mercado '15 doubled to bring the tying run to the plate. Rougeux hit a short pop-up in front of home plate that was misplayed and scored a run. Jackie Buechler '17 came on to pitch in relief of Lauren Tuiskula '17 and Staab lined Buechler's first pitch off the first baseman to score Mercado and pull the Continentals within a run. Buechler struck out Hamilton's final batter on three pitches.

Tuiskula faced the minimum 15 batters over five innings (Moore singled for Hamilton's only hit but was thrown out on a stolen base attempt) and was six outs away from the win when the Lord Jeffs scored twice in the sixth. A walk to Leet and a double by Cook put runners on second and third before Alena Marovitz '17 singled both home.

Butler led off the Hamilton sixth inning with a single up the middle and Rougeux added a one-out single. Leonard drilled a double to the right field corner that tied it at 2-2 and scored the go-ahead run on a single to right by Kiernan.

Silkowitz, Ayers and Marovitz had two hits each for Amherst, and Marovitz and Leet drove in a pair of runs apiece. Tuiskula struck out four and picked up her third win. Buechler's save was her first.

Hamilton plays a non-conference doubleheader at St. Lawrence University that starts at 1 p.m. on Sunday, April 27. The Jeffs close out their regular season with a doubleheader at Worcester Polytechnic Institute on Tuesday.