Softball rallies for win on final day of Florida trip
---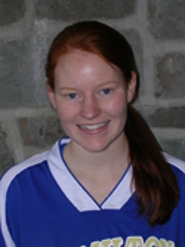 Hamilton College came from behind to defeat Hendrix College by a run and lost to University of Wisconsin-Oshkosh by a run in non-conference games played at the Cape Coral Sports Complex in Cape Coral, Fla., on March 18.

Hamilton wrapped up its Florida trip with an overall record of 4-6. The Continentals are off until Wednesday, March 28, when they travel to Morrisville State College for a non-conference doubleheader.

Against Hendrix (3-4 overall), Hamilton rallied for a 5-4 victory. The Continentals fell behind 4-0 after Hendrix scored two runs in the top of the fifth. Hamilton responded with a pair of runs in the bottom half of the inning, and won the game with three more in the seventh.

In the bottom of the seventh inning, Jenn Rougeux '14 and Ashley Perritt '14 led off with walks, and Katie Puccio '15 was hit by a pitch to load the bases. Sam Miller '14 followed with a two-run double to left field that tied the score at 4-4. Melissa Kaknis '13 hit a chopper that the pitcher fielded and threw to first base to get Kaknis out. When the pitcher went to first, Puccio sprinted home with the winning run.

Miller finished the game with three runs batted in. Puccio went 3-for-3 with a double and one RBI, and Rougeux was 2-for-2 with two runs scored. Winning pitcher Kelly Leonard '15 allowed two earned runs on six hits and struck out a season-high 13 batters in seven innings.

Against Wisconsin-Oshkosh (4-2), the Continentals grabbed a 2-0 lead in the top of the second inning. The Titans responded with one run in the fourth, three in the fifth and two in the sixth for a 6-2 advantage. Miller briefly tied the score with a grand slam in the seventh, but Oshkosh won the game with a run in the bottom half of the inning.

Kaknis singled and doubled, and Rougeux ended up 2-for-3. Leonard took the loss in relief.