Softball splits doubleheader at St. Lawrence
---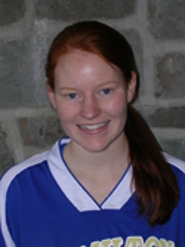 Sam Miller '14 had five hits and Mandy Hyne '11 nearly pitched a complete game for a win as Hamilton College split a non-conference doubleheader against St. Lawrence University at St. Lawrence's Saints Softball Field on April 27.

Hamilton (6-21 overall) won the second game 6-3 behind Miller's offense and Hyne's pitching. Miller finished with three hits, including a double, and drove in a run. Hyne tossed 6.2 innings as she allowed two earned runs on just four hits and seven walks. She also struck out three. Chelsea Merritt '14 earned her first save with the Continentals for getting the final out on a strikeout with the bases loaded in the bottom of the seventh.

St. Lawrence (9-17) blanked Hamilton 3-0 in the opener. Miller went 2-for-3, and Lisa Faraci '13 and Ashley Perritt '14 added one single apiece. Merritt allowed three runs on four hits and three walks in six innings. She fanned one.

In Game 2, the Saints led 2-1 after one inning, and the score remained that way until the top of the fourth. The Continentals took a 4-2 lead with three runs on three hits, three St. Lawrence errors and a passed ball. The Saints ended up with six errors in the nightcap.

Hamilton extended its lead with two runs in the seventh. Hyne led off with an infield single and went to second on a one-out single by Miller. Melissa Kaknis '13 reached base on an infield error and Hyne scored on the play, but Miller was thrown out at third base for the second out. Cara Vennari '12 then drove in Kaknis with a triple. Vennari finished 2-for-4.

St. Lawrence pushed a run across in the bottom of the frame against Hyne and threatened to do more damage after an infield error kept the inning alive. Merritt snuffed the rally with her game-ending called third strike.

The Continentals host Wesleyan University for a three-game New England Small College Athletic Conference West Division series on Friday and Saturday, April 29 and 30.