Softball splits doubleheader with Utica
---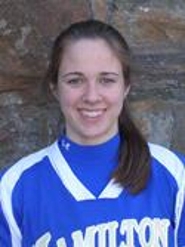 Hamilton College won its first game 5-3 and lost 6-2 in the second game of a non-conference doubleheader against Utica College at Hamilton's Ferguson Fields on April 30.
Hamilton wrapped up its season with a 5-23 record. Amy Appel '13 pitched all seven innings of Game 1. Appel allowed three runs on seven hits, struck out two and walked two.
Liz Reid '11 was 2-for-3 in Game 1. Reid hit her second home run of the season and had three RBI. Liz Farrington '10 was also 2-for-3 with two singles. Leigh Sherrow '11 was 3-for-3 with one RBI. Appel had one hit and one RBI.
In the bottom of the first, Reid hit a three-run home run to give Hamilton a 3-0 lead. Utica (13-27) scored one run on a double in the second. Appel hit a single to plate one run for the Continentals in the fourth to make the score 4-1. The Pioneers added two runs in the fifth to get within one, but Hamilton scored once in the bottom of the frame when a single by Sherrow drove in a run to secure the win.
In Game 2, Appel again pitched all seven innings, allowed six runs on 15 hits and struck out one. Farrington was 2-for-3 with one RBI. Rachel Rapoza '10 hit one single and drove in one run. Reid, Cara Vennari '12 and Mandy Hyne '11 each finished with one single.
The Pioneers jumped out to a 2-0 lead in the top of the first, scoring one run with a single, and then driving in another with a double. The Continentals answered with two runs in the bottom of the inning. Lisa Faraci '13 was hit by a pitch and Hyne singled. A single by Rapoza plated the first run, and a single by Farrington drove in the tying run.
Utica took back the lead with one run in the third inning, added one in the fifth and two more in the seventh for the final margin.