Softball splits doubleheader with Williams
---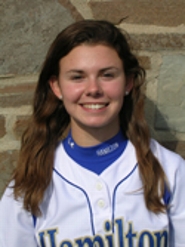 Hamilton College's Kelly Leonard '15 led the Continentals to a NESCAC West Division doubleheader split with Williams College at Williams' Cole Field on April 27.

Leonard (8-12) pitched Hamilton to a 4-1 win in Game 2. The Continentals had lost 27 in a row against the Ephs, including a 5-2 setback in Saturday's opener. Hamilton's last win against Williams was back on April 7, 2002. The loss kept the Ephs from clinching second place in the division and earning a spot in the 2013 NESCAC Championship.

Leonard allowed one run on 11 hits, walked none and struck out four in seven innings. She has walked just 17 batters in 130.1 innings and lowered her ERA to 2.69 this year. Leonard has 16 complete games in 18 starts. She also singled and scored a run in the second game.

Olivia Gozdz '16, Melissa Kaknis '13 and Sam Miller '14 doubled for the Continentals in the nightcap. Gozdz extended her hit streak to 12 games and leads the team with a .455 batting average. Miller drove in two runs and Monique St. Jarre '15 finished with two hits.

Erica Li had three hits and Theresa Legan chipped in two for Williams in the second game. Kaitlin Dinet (0-5) pitched 3.2 innings and took the loss. Dinet gave up two runs on three hits. The Ephs left nine runners on base.

Hamilton (12-20 overall, 2-10 NESCAC West) struck first in the top of the second inning when Leonard and St. Jarre smacked back-to-back singles. A sacrifice bunt put them at second and third with one out, and Chelsea Merritt '14 came through with a liner to right that scored Leonard.

The Ephs (15-20, 7-5) tied the score in their half of the third inning when Li led off with a single up the middle. Li stole second and advanced to third on Kacey Cramer's groundout. Ali Graebner singled to left and plated Li.

Hamilton regained the lead in the top of the fourth inning when Kaknis led off with a double and moved to third when St. Jarre's hard liner struck Dinet in the head. St. Jarre was thrown out for the second out but Dinet had to come out, and Miller greeted reliever Megan Casey with a double to center that scored what proved to be the winning run.

Hamilton added a run in the fifth inning when Gozdz's two-out double scored Sarah Moore '16, who drew a lead-off walk against Casey. The Continentals tacked on another insurance run in the sixth on Miller's groundout.

The Ephs put runners on second and third with one out in the first inning but Leonard fanned the next two batters and kept them off the scoreboard. Melissa Cendejas and Merrilee Weston had one-out singles in the second but another Leonard strikeout and a pop-up ended that threat. After Graebner tied the score in the third, Mo Frank followed with a single, but a groundout and a strikeout ended that threat, too.

In the first game, Emma Harrington (11-6) pitched a complete game for the Ephs. Harrington allowed two runs on nine hits, walked two and fanned six in seven innings. Dinet had two hits and two RBI, and Priscilla Pino drove in two runs.

Kaknis belted her third homer this year and drove in two runs for Hamilton. Leonard posted three hits and Merritt had two, including a double. Amy Appel '13 (3-5) surrendered three earned runs on just five hits, struck out three and walked none in six innings. The Continentals were undone by five errors. Hamilton's fielding percentage of .965 leads the NESCAC.

There was no score until the bottom of the fourth inning when Dinet lined a two-run single to left that scored Graebner and Cramer. Hamilton answered quickly in the top of the fifth. The Continentals ended Harrington's 11.2-innings scoreless streak against them when Kaknis launched a two-out, two-run homer to left that tied the score at 2-2.

It stayed tied until the bottom of the sixth inning. Appel got two quick outs before Frank singled up the middle. Dinet followed with a single between third and short and Cendejas loaded the bases when she was hit by a pitch. Pino, who was out in the bullpen for much of the game, was called in to pinch-hit and delivered a solid sock to right that scored Frank and Dinet. Cendejas also came around to score when the ball skirted past the Hamilton right fielder.

The Continentals host Morrisville State College for a non-conference doubleheader on Tuesday, April 30.