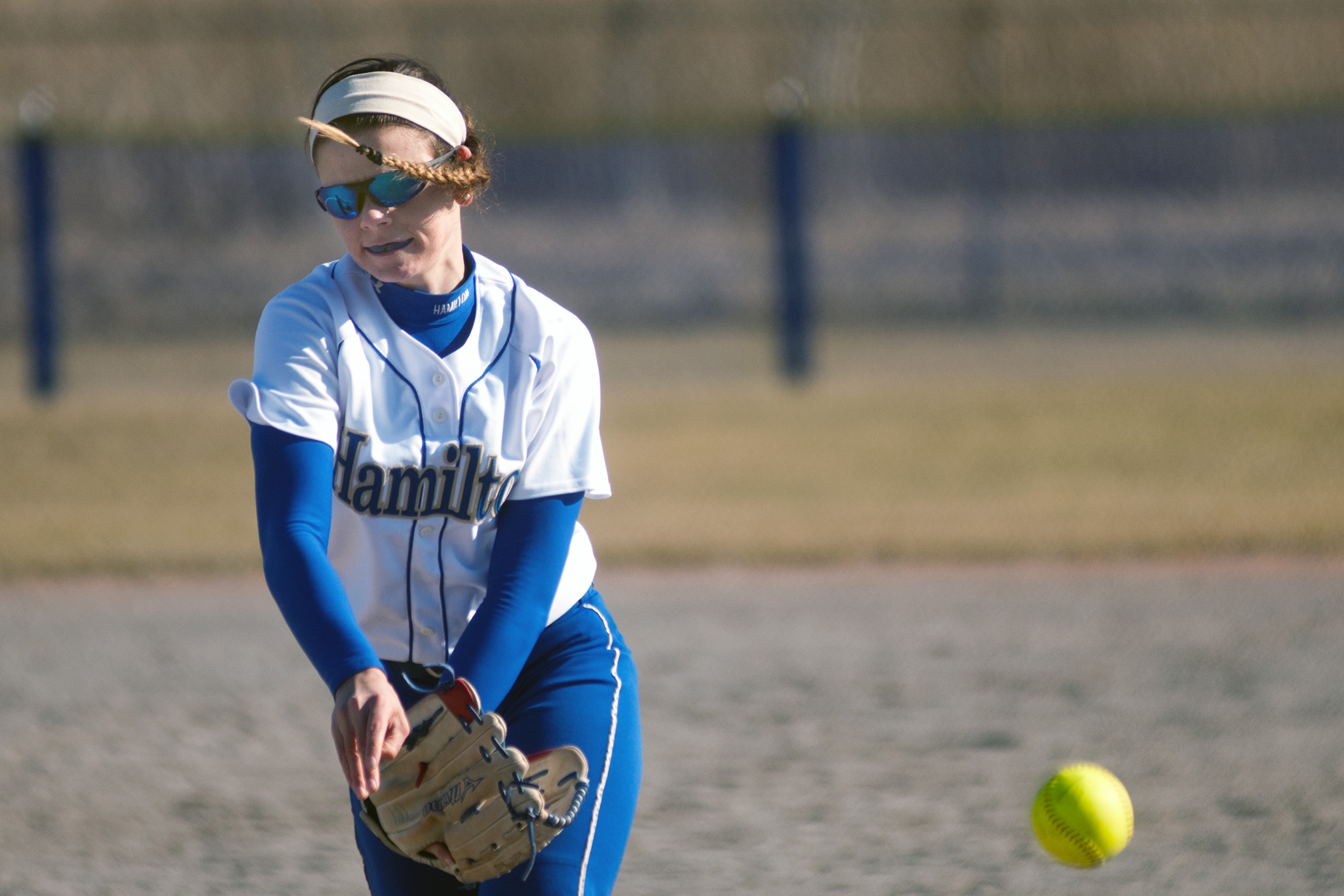 Hamilton College's Kelly Leonard '15 allowed one unearned run in 13 innings and the Continentals split a NESCAC West Division doubleheader against the Middlebury College Panthers in Middlebury, Vt., on April 19.

Game 1 Box Score|Game 2 Box Score

Both games were 1-0 decisions as Middlebury took the opener and Hamilton prevailed in the nightcap. Every contest in the three-game series was a shutout. The Panthers blanked the Continentals 2-0 on Friday.

Hamilton (8-18, 2-7 NESCAC West) picked up its first win against Middlebury since April 26, 2008. The Panthers had won 17 in a row against the Continentals.

Leonard (4-11) allowed five hits in seven innings in game two. She walked two and struck out four en route to her seventh career shutout. Sarah Moore '16 went 2-for-3 with a triple and Monique St. Jarre '15 doubled and drove in a run.

Elizabeth Morris surrendered five hits and one unearned run for Middlebury (16-9, 7-2). Morris fanned 10 and walked just one. Sarah Freyre hit two doubles and Carlyn Vachow added a pair of hits. Freyre doubled to right with two outs in the first and sixth innings but didn't score.

The Continentals scored the only run of the game in the fourth inning when Sam Miller '14 reached on an error. Miller was forced out on a fielder's choice as Moore reached first base. One batter later, St. Jarre doubled to left center and drove in Moore. Hamilton tried to add to its lead in the sixth but Moore was left stranded at third base after a two-out triple to right center.

Vachow led off the seventh inning for Middlebury with a single up the middle. She was bunted over to second base by Emily Smith but was stranded there as the next two batters grounded out to the pitcher and flew out to right field.

In game one, Leonard allowed one unearned run on five hits, struck out seven and didn't walk a batter in six innings. Hannah Staab '17 had two of Hamilton's four hits.

Neve Stearns tossed a four-hit shutout for the Panthers. Stearns walked two and fanned six in seven innings. Freyre doubled, Emily Kraytenberg had two hits and Christina Bicks drove in the game's only run.

Hamilton threatened in the first inning as Olivia Gozdz '16 singled, stole second and advanced to third on a passed ball. Miller followed with a walk but the runners were stranded at the corners after Stearns was able to induce an infield pop-up.

Freyre hit a stand-up double in the second but didn't score. Hamilton tried to get on the board in the fifth with back-to-back singles by Jenn Rougeux '14 and Staab, but Stearns struck out the next two batters to end the inning.

The game's lone run came in the bottom of the fifth inning when Kelsey Martel reached on an error and was bunted over to second by Alex Scibetta. Bicks followed with a single up the middle that plated Martel. The Continentals went down one-two-three in the sixth and seventh innings.

Hamilton hosts SUNY Oswego for a non-conference doubleheader on Monday, April 21. First pitch of the opener is at 3:30 p.m.