Softball splits two games in Florida
---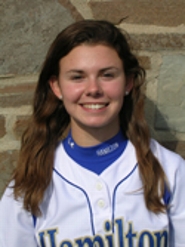 Hamilton College split a pair of one-run, non-conference games at the Cape Coral Sports Complex in Fort Myers, Fla., on March 20.

Hamilton (2-4 overall) edged Nichols College 3-2 in the first game of the day. The Continentals fell 5-4 in eight innings against the College of Wooster in the afternoon. Hamilton has played two extra-inning games in Florida.

Against Nichols (2-7), Kelly Leonard '15 tossed a complete game for her first win this year. Leonard scattered six hits and allowed two runs in seven innings. She struck out nine and walked just one batter.

Sam Miller '14 led the Continentals' offense with three hits. Olivia Gozdz '16 went 2-for-3 with a double and Ellie Kiernan '15 and Talia Mercado '15 drove in one run apiece.

Taylor Ferrazzi took the loss for Nichols as she allowed three runs on seven hits in seven innings. Emalee Watkins had a pair of hits and Rebecca Palmarozza drove in both runs.

Hamilton grabbed a 1-0 lead in the top of the fourth inning. Jenn Rougeux '14 led off with a walk and went to second on a wild pitch. Miller's one-out single moved Rougeux to third. A bunt by Mercado was handled by the infield, but they couldn't get Rougeux out at home, and everyone was safe.

The Continentals made it 3-0 with two runs in the fifth. Gozdz led off with a double down the left field line and went to third base on a groundout to second. A throwing error on Kiernan's ground ball to shortstop scored Gozdz. Kiernan stole second base and came all the way around to score on Rougeux's ground out to second base. Nichols had started to head to the dugout believing they had recorded the final out of the inning.

Nichols rallied with two runs in the bottom of the seventh. But with runners on first and second base and one out, Leonard fanned the next two batters and clinched the win for Hamilton.

Against Wooster (9-7), Rougeux was a perfect 3-for-3 at the plate with an RBI for the Continentals. Gozdz went 2-for-4 with another double and Lauren Fairman '16 and Mercado added two-base hits. Miller, Amy Appel '13 and Melissa Kaknis '13 drove in one run each.

Monique St. Jarre '15 started in the circle and was relieved by Leonard with two outs in the fifth inning. Leonard allowed one unearned run on four hits in 3.1 innings, but was saddled with the loss.

Jenn Horton went 2-for-3 with two RBI for Wooster. Paige Goldberg drove in two runs and Gina Pirolozzi plated the other. Pirolozzi pitched all eight innings and struck out five and walked just one batter.

Hamilton took a 1-0 lead in the bottom of the first inning. Rougeux hit an infield single with one out and went to second base on a sacrifice bunt. Miller drove her in on a single to right field. Wooster tied the score with a run in the third inning and grabbed a 4-1 lead with three more in the fifth.

The Continentals roared back with a three-run rally in the bottom of the seventh inning. Fairman hit a one-out double to left center and Sarah Moore '16 pinch ran for her. Appel's single up the middle scored Moore. Kiernan walked and both runners moved up on a passed ball. Rougeux's sacrifice bunt scored Appel, and Kaknis plated Kiernan with the tying run on a single to right field.

Hamilton takes on the University of New England and SUNY Brockport in more non-conference action on Thursday, March 21.