Softball splits with St. Lawrence
---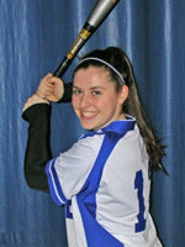 Megan Coughlin '09 and Amber O'Connor '09 set program records and Hamilton College split a non-conference doubleheader with St. Lawrence University at Ferguson Fields on April 15.
Coughlin struck out nine batters in her 13.1 innings of work and set a new record for career strikeouts. She has 310, enough to surpass Heide Katerba '90, who held the previous record for 19 years with 309.
O'Connor racked up four hits in the two games and holds Hamilton's career hits record with 130. The previous record was 127 set from 1999 to 2002 by Karen Pogonowski '02.
Coughlin and O'Connor were the keys to Hamilton's 7-5 win in the opener. O'Connor went 2-for-4 with three runs and two RBI, while Coughlin picked up the win in the circle. Coughlin pitched a complete game with four strikeouts, and allowed just one earned run on five hits.
The score was tied 2-2 after the first inning, but the Continentals used a two-run second to take a temporary lead. O'Connor drove in a run on a single to right field, and Coughlin walked with the bases loaded for the second run.
The Continentals (5-18 overall) found themselves down 5-4 after the top of the third, but O'Connor's seventh double of the season scored Ashley White '09 in the fifth inning to even the score. O'Connor raced home on a wild pitch one out later to take the lead for good. Hamilton added a run in the sixth.
St. Lawrence (4-14) took a 4-1 lead after the first inning of Game 2 and went on to a 6-3 win. Hamilton could not manage enough offense to overcome the Saints' first-inning onslaught. The Continentals' best chance to rally came in the bottom of the fifth, but the hosts stranded two runners. Liz Reid '11 went 2-for-2 in the second game and has hit safely in nine straight contests.
Mandy Hyne '11 started in the circle and gave up three earned runs on five hits in the first inning. Coughlin was strong in relief as she struck out five and allowed two runs -- one earned -- on four hits in 6.1 innings.
Hamilton travels to Williams College for a New England Small College Athletic Conference West Division series this weekend. The teams will play a single game on Friday, April 17, and a doubleheader on April 18.