Softball sweeps doubleheader at Cazenovia
---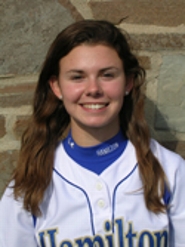 The pitching of Kelly Leonard '15 and the hitting of Ellie Kiernan '15 led Hamilton College to a sweep of Cazenovia College in a non-conference doubleheader at Cazenovia's Veterans Field on April 24.

Hamilton (11-18 overall) blanked the Wildcats 8-0 in Game 1 and outslugged them 13-8 in a nightcap that was stopped after the sixth inning due to rain. The Continentals have won four straight while Cazenovia has dropped four in a row.

Leonard (7-11) was the star in the opener as she extended her scoreless innings streak to 19 with a four-hit shutout. She struck out six and didn't walk a batter. Leonard is ranked 25th in Division III in walks allowed per seven innings. She also got the job done at the plate with a two-run homer.

Kiernan led Hamilton's offense with three hits and two RBI in the first game. Jenn Rougeux '14, Lauren Fairman '16, Monique St. Jarre '15 and Chelsea Merritt '14 boasted two hits each. Merritt doubled and drove in two runs, Rougeux stole three bases and Melissa Kaknis '13 cracked a double.

The Continentals grabbed a 3-0 lead on three runs scored with two outs in the top of the third inning. Rougeux hit a one-out single and Kaknis plated her with a double. Leonard followed with her first home run at Hamilton.

The Continentals made it 5-0 with two runs in the sixth inning. Merritt led off with a double and scored on a single by Kiernan. Sam Miller '14 drove in the fifth run with a two-out single. Hamilton rounded out the scoring with three runs in the seventh. Merritt's two-run single was the big blow in the inning.

Olivia Gozdz '16 broke the school record with her 41st and 42nd hits this year in the second game for the Continentals. Gozdz came into the day with a .460 batting average.

Miller homered and drove in five runs for Hamilton. Kaknis went 4-for-5 with a home run and Kiernan and Lauren Fairman '16 posted three hits apiece. Rougeux chipped in two hits and three runs scored. Amy Appel '13 relieved starter St. Jarre in the bottom of the third inning and pitched well. Appel (3-4) allowed one unearned run on four hits in four innings, walked two and fanned six.

Alyssa Connor went 3-for-4 with two RBI for the Wildcats. Hilary Hext, Jenna Kraeger, Calyn Fisher and Dylanne Hodge added two hits each. Hext doubled and Fisher drove in two runs.

Cazenovia (4-26) led 8-6 after four innings, but the Continentals exploded for six runs in the top of the fifth. Fairman led off with a single and Gozdz smacked a one-out single. Rougeux reached on an infield error that loaded the bases and Miller hammered a grand slam that put Hamilton in front, 10-8. Miller is tied for third place in program history with nine home runs. Kaknis and Kiernan hit back-to-back singles and Merritt drove in Kiernan with a base hit. Fairman made it 12-8 with an RBI single.

The Continentals added an insurance run in the sixth inning. Rougeux slapped a one-out single, stole second base and scored on Kaknis' single with two outs.

Hamilton travels to Williams College for a NESCAC West Division game on Friday, April 26.