Softball sweeps Morrisville State
---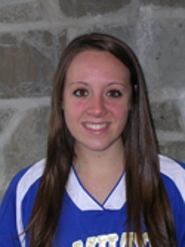 Chelsea Merritt '14 pitched a five-inning shutout in Game 2 to clinch a doubleheader sweep for Hamilton College against Morrisville State College in non-conference action at Hamilton's Ferguson Fields on April 12.

Hamilton (3-14 overall) rallied from a six-run deficit to win the opener 9-7, and blanked Morrisville State 8-0 in five innings in the nightcap. The game was stopped after the top of the fifth due to the eight-run mercy rule. The Continentals ended their losing streak at 14 games. The Mustangs had won four in a row before coming to Hamilton.

Merritt allowed two hits, struck out three and walked two as she earned her first win with the Continentals. Merritt's shutout is the first by a Hamilton pitcher since a 4-0 victory against SUNY Cobleskill on April 13, 2010. The Continentals are scheduled to play a non-conference doubleheader at Cobleskill on Wednesday, April 13.

In the second game, Lisa Faraci '13 led the Hamilton offense with two hits, including a bases-clearing triple in a five-run fourth inning, and drove in a career-high five runs.

Liz Reid '11 singled, doubled and had three runs batted in. Jen Rougeux '14 was 2-for-2 with two runs scored. Leigh Sherrow '11 singled and scored twice, and Sam Miller '14 and Cara Vennari '12 added one hit apiece. The Continentals grabbed a 3-0 lead with three runs in the bottom of the third inning.

Morrisville (9-11) led 7-1 after the top of the second inning in Game 1. But Hamilton received six shutout innings of relief pitching from Mandy Hyne '11, and the Continentals came up with four runs in the third and sixth innings to complete the comeback.

Hyne entered the game in the second inning with the bases loaded, nobody out and one run already across. She allowed just one more run to score on a ground ball to short. She surrendered two hits, walked one and fanned five for her fourth career victory.

Reid led the offense with two hits and two RBI. Miller doubled and drove in three runs, Kristin Schwam '13 drove in two runs with a pinch-hit single in the third. Kristen Pallen '12 singled and drove in a run as a pinch-hitter in the sixth inning. Sherrow singled and scored a run.

For the Mustangs, Nicole Geier '11 was 2-for-2, and Kate Jones '14 singled, doubled and drove in a run. Kayla Walker '13 and Amber Nichilo '13 doubled and drove in one run apiece. Eileen Farrell '14 had one hit and one RBI, and Jessica Rigg '13 added a hit. Morrisville committed three errors behind Nichilo, which led to five unearned runs. She allowed six hits, walked three and struck out eight in six innings.

Hamilton took the lead with four runs in the bottom of the sixth. Rougeux reached on an error by the shortstop, and Hyne got to first on a fielder's choice when the ball was thrown to second base, but the fielder couldn't find the bag.

After a pop-up, Melissa Kaknis '13 walked to lead the bases. Miller followed with a booming double to left field that cleared the bases and put the Continentals ahead 8-7. After another pop-up in the infield, Pallen singled up the middle to score Miller and make it 9-7. Morrisville stranded a runner on second base in the seventh inning.