Softball sweeps SUNY Potsdam
---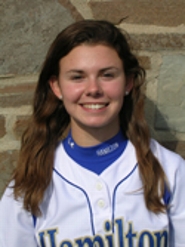 Hamilton College's Kelly Leonard '15 pitched a two-hit shutout in the opener and earned the win in relief in the second game, and Hamilton College swept SUNY Potsdam in a non-conference doubleheader at Hamilton's Ferguson Fields on April 18.

The Continentals (9-18 overall) blanked Potsdam 5-0 in Game 1 and won the nightcap, 8-5. In the second game, Hamilton's Olivia Gozdz '16 tied the school record with her 40th hit this year. Today marked Hamilton's home opener after 12 games were either postponed or rescheduled due to weather.

Leonard (6-11) tossed her second shutout this year in Game 1. She also blanked Knox College in Florida on March 23. Leonard struck out six and walked just one. She also went 2-for-2 at the plate with a double and a single. Gozdz tripled and drove in a run. Melissa Kaknis '13 and Lisa Faraci '13 finished with one hit and one RBI apiece.

Katie Marsman '16 and Alexis Lerman '16 had the hits for the Bears in the first game. Megan Johnson '14 (2-2) scattered five runs on eight hits in the complete game loss.

Potsdam (7-15) got its first hit in the third inning, when Lerman singled to left field and eventually made her way around to third base. She was stranded at third and the Bears didn't get another hit until there was one out in the seventh. In the bottom half of the third, Leonard led off with a double to left center. She moved up to third on a wild pitch and scored on Gozdz's sacrifice fly to left field for a 1-0 lead.

Hamilton added three more runs in the fourth. Johnson retired the first two batters, but four consecutive singles led to the 4-0 lead. Monique St. Jarre '15 singled to left and came all the way around to score on Faraci's single to deep center. Leonard's single through the left side put runners on the corners and Sarah Moore '16 singled just out of reach of the diving right fielder and plated Faraci.

On the next pitch, Moore intentionally got caught in a rundown between first and second, and Leonard scampered home from third. The Continentals added one more run in the fifth after Gozdz tripled and scored on Kaknis' single.

In the nightcap, Ellie Keirnan '15 went 3-for-4 with a double and three RBI for the Continentals. Gozdz, Jenn Rougeux '14 and Lauren Fairman '16 all went 2-for-4. Fairman finished with her first home run, a double and two RBI.

Amy Appel '13 started the game and lasted two innings. Leonard earned the win after she relieved Appel in the top of the third. Leonard tossed five scoreless innings, gave up three hits and struck out five.

Heather Johnson '13 hammered a grand slam and Amanda Perry '13 homered and singled. Jordan Sarat '16 (2-8) started in the circle and gave up two earned runs in two innings before she left with an injury. Ashley Thayer '14 pitched the final four innings and allowed two runs on four hits and struck out four.

The Bears struck first with Perry's solo homer in the first. But the Continentals scored four times in the bottom of the inning thanks to five Hamilton hits and four Potsdam errors. Gozdz and Rougeux led off with singles. Sam Miller '14 reached base on a fielding error and a throwing error allowed Gozdz to score on the same play.

Another error plated Rougeux and left runners at the corners. An infield single by Kiernan scored Miller, and after a Faraci single, Fairman doubled in Kiernan for the fourth run.

Potsdam reclaimed the lead in the second inning with four runs. The Bears loaded the bases on a single by Brittany Thivierge '14, a walk to Khalshia White '14 and Lerman was hit by a pitch. Johnson then smacked a grand slam to straight away center for a 5-4 advantage.

Hamilton tied the score in the bottom half of the inning. Gozdz reached on an error, Rougeux singled with two outs and Kiernan drove a double to left center that knocked in Gozdz.

Fairman led off the third inning with a home run down the left field line that put Hamilton back in front, 6-5. The Continentals loaded the bases as Leonard walked, Gozdz singled up the middle and Miller was hit by a pitch. But Thayer ended the inning by striking out the next two batters.

Leonard retired 15 of the 18 batters she faced. The Continentals added two insurance runs in the fifth inning. Miller and Kaknis singled and moved up on a wild pitch, and Kiernan laced a two-out, two-run single to the left center field gap.

Hamilton travels to Cazenovia College for another non-conference doubleheader on Wednesday, April 24. Potsdam hosts SUNY Plattsburgh for two games on Saturday, April 20.