Softball sweeps SUNYIT in non-conference action
---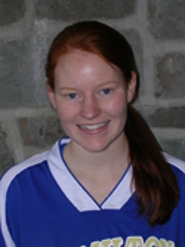 Hamilton College's Sam Miller '14 smacked a two-run homer in the nightcap and the Continentals swept SUNY Institute of Technology in a non-conference doubleheader at Utica College's Greenman Field on April 4.

The Continentals (6-11 overall) won 4-1 in the opener and held off a late Wildcat rally for a 5-2 win in Game 2. The games, originally scheduled for April 2, were moved to Utica's campus because Hamilton's field is still unplayable after several inches of snow fell earlier in the week.

In the first game, Hamilton broke open a 1-1 tie with a pair of runs in the fifth and one in the sixth. Starting pitcher Kelly Leonard '15 allowed just two hits and struck out seven in five innings of work. Melissa Kaknis '13 went 2-for-3 and drove in three runs. Olivia Gozdz '16 and Jenn Rougeux '14 had two hits apiece.

Krista Pristera '15 finished with a solo home run and a double for the Wildcats. Erica Hovey '13 threw a complete game, scattered nine hits and gave up two earned runs.

The Continentals nearly struck first after they loaded the bases with one out in the bottom of the second. Ellie Kiernan '15 walked, Leonard and Lisa Faraci '13 singled and the bases were full. But Hovey fanned the next two batters and ended the threat.

Hamilton went up 1-0 with a run in the third, but timely defense by SUNYIT kept the Continentals from scoring more. The hosts had runners on second and third when Miller grounded out to shortstop and Gozdz was thrown out at home trying to score on the play. Kaknis followed with a single up the middle that drove in Rougeux with the game's first run.

Pristera tied things up in the fourth with a solo shot to left center -- her first this season. Leonard had retired the previous eight batters in order, five of them by strikeouts. Along with the homer, Pristera's double in the first inning proved to be the only two hits Leonard allowed.

Kaknis' two-run single up the middle in the bottom of the fifth inning wound up being the game-winning hit. Sarah Moore '16 and Faraci led off the inning with singles. Rougeux moved the runners over with a sacrifice bunt and Miller was intentionally walked to load the bases. Kaknis drove in Moore and Faraci for a 3-1 lead through five innings.

Hamilton added an insurance run in the sixth inning. Faraci reached on an error and made her way to third base after a wild pitch. Monique St. Jarre '15 plated Faraci when she also reached base on an infield error. Lauren Fairman '16 pitched two scoreless innings, including a 1-2-3 seventh, for her first save.

In Game 2, Hamilton scored four runs during the final three innings, and St. Jarre escaped from a bases-loaded jam in the seventh as the Continentals completed the sweep. Gozdz went 3-for-4 with an RBI and Fairman collected two doubles and two RBI. Miller hit her second home run this year and Amy Appel '13 yielded two runs on six hits in six-plus innings.

Lyndsey Brognano '13 finished with two hits and Alisha Soucy '16 added a two-run single for the Wildcats. Lauren Marleau '13 and Alison Short '14 had one hit and scored one run apiece.

The Continentals struck first again with a run in the bottom of the second. Appel started the inning with a single to center, stole second, advanced to third on a passed ball and scored on Fairman's ground out.

Both teams threatened but didn't score in the third inning. Brognano hit a two-out single to left and stole second base. Fallon Reinhold '16 hit a deep fly ball to center field, but Rougeux was there to make the catch. In Hamilton's half of the inning, the Continentals left runners stranded at the corners.

Hamilton tacked on a run in the fourth and two in the fifth for a 4-0 advantage. Appel led off the fourth with a single and came around to score on Fairman's double down the left field line. In the fifth, Gozdz led off with a line single up the middle and scored on Miller's one-out blast to center field.

The Continentals added their last run in the sixth. Fairman smacked a double to left field and moved to third on a ground out. Gozdz's infield single plated Fairman for a 5-0 cushion.

SUNYIT (6-4) made things interesting in the seventh inning. Consecutive singles by Marleau, Short and Erika Charbonneau '16 loaded the bases with no outs. Soucy re-entered the lineup and drove in two runs with a single up the middle.

St. Jarre came in from the bullpen and got the last three outs for her first career save. After the next batter struck out, Emily Lee '16 loaded the bases again with a bunt single. Brognano hit a ground ball to third base and Talia Mercado '15 threw home and forced out pinch-runner Taylor Pritchard. Reinhold popped up to short for the final out.

Hamilton returns to NESCAC West Division play on Friday, April 5, when the Continentals head to Amherst College. SUNYIT travels to Morrisville State College for a doubleheader on Saturday, April 6.