Softball swept at Oswego in non-conference twinbill
---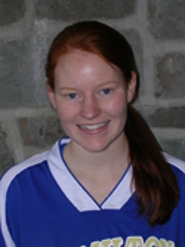 SUNY Oswego won a pair of one-run games against Hamilton College in non-conference action in Oswego, N.Y., on April 30.

Hamilton (9-25 overall) dropped its last five games of the season. The Continentals lost 4-3 in Game 1 and 3-2 in the nightcap against Oswego.

Ashley Snyder led off the bottom of the seventh inning with a walk-off home run and picked up the complete-game win for the Lakers in the opener. Snyder allowed three runs on six hits, walked four and fanned five in the circle. She finished with two hits at the plate.

Shannon Baker added two hits and two RBI in the first game for Oswego. Brooke Radley singled, doubled and drove in a run, and Dee Apps collected two hits.

Sam Miller '14 paced Hamilton's offense with a two-run home run in the top of the first inning. Miller tied the program's single-season record with 31 RBI. Chelsea Merritt '14 doubled and singled and Ellie Kiernan '15 singled and drove in a run. Jenn Rougeux '14 and Kelly Leonard '15 had the other two hits. Leonard tossed six-plus innings, allowed four runs on 12 hits, walked two and struck out two.

After Ashley Perritt '14 worked a lead-off walk to start the game, Miller staked the Continentals to a 2-0 lead with her two-out round-tripper. Miller finished the year with six home runs.

The Lakers (16-21) scored three runs with two outs in the fourth inning to grab a 3-2 lead. Radley's double to left scored Katie Bredin, who reached on a fielder's choice. Laura Kahn reached on an infield single, stole second and Baker's single to center drove in Radley and Kahn.

Hamilton tied the score in the top of the sixth with some two-out magic of its own. Melissa Kaknis '13 led off with a walk and after a strikeout advanced to second on a sacrifice bunt. Kaknis went to third on a single by Leonard and scored on Kiernan's base hit to center field. After the Continentals left two runners on in the top of the seventh, Snyder won the game with a homer to right in the bottom of the inning.

In the second game, Baker doubled and drove in two runs, and Dee Apps hammered a solo blast for Oswego. Maureen Lenehan doubled and singled, and Radley posted a pair of hits. Sarah Thayer earned the win as she scattered seven hits in seven innings, allowed one earned run, walked two and struck out seven.

Leonard led Hamilton's offense with two hits, including a triple, and an RBI. Miller doubled and singled and Monique St. Jarre '15 had two hits. Rougeux recorded a single and Summer Bottini '14 drove in a run. Bottini started in the circle, pitched two innings and took the loss. St. Jarre kept the Continentals in the game with four shutout innings of relief.

The Lakers grabbed a 1-0 lead on Apps' home run to center with two outs in the bottom of the first inning. Oswego scored two more runs with two outs in the second inning. Thayer reached on a fielder's choice, Lenehan doubled to center field and Baker drove in both of them on a double down the left field line.

Hamilton cut its deficit to 3-2 with two runs in the fourth inning. Miller led off with a double and went to third on a groundout to first base. Bottini reached base on an infield error as Miller scored and went to second on a sacrifice bunt. Leonard's single to right center drove in Bottini.

The Continentals tried to rally with two outs in the top of the seventh. Back-to-back singles by St. Jarre and Miller put runners at first and third. But Miller was caught stealing second base to end the game and Hamilton's season.