Softball swept at Wesleyan
---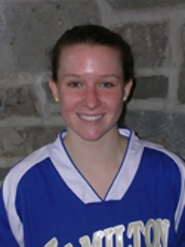 Wesleyan University's Jill Gately drove in seven runs and the Cardinals swept a NESCAC West Division doubleheader against Hamilton College in Middletown, Conn., on March 29.

Wesleyan (13-3 overall, 2-0 NESCAC West) improved its win streak to 11 games with a 7-2 victory in the opener and a 7-3 triumph in Game 2. The three-game weekend series was moved from Hamilton to Connecticut because the Continentals' field was unplayable. Hamilton batted in the home half of the inning in both games.

In Game 1, Laura Getchell started in the circle for the Cardinals, but allowed two hits and two walks and left without retiring a batter. Susan Pardo (5-0) came on in relief and shut down the Continentals. Pardo pitched seven scoreless innings, allowed four hits and struck out 13. Gately was 2-for-3 with a triple and three RBI, and Amy Lindland went 3-for-4.

For Hamilton (4-10, 0-2), Olivia Gozdz '16 went 3-for-3 at the plate, and Jenn Rougeux '14 chipped in two singles. Kelly Leonard '15 (2-6) surrendered five earned runs on 10 hits in seven innings. Leonard also doubled in three at-bats.

Wesleyan leadoff hitter Allee Beatty reached first on a muffed throw by the first baseman in the top of the first inning. Beatty moved to second on a sacrifice bunt and went to third on an infield out. Gately's triple to right field drove in Beatty, and Alex Sarkowsky plated Gately on a single between third and shortstop for a 2-0 lead.

The Continentals tied the score in the bottom of the inning. Ellie Kiernan '15 led off with a walk and Rougeux and Gozdz followed with infield singles that loaded the bases with no outs. Sam Miller '14 drew a walk that forced in Kiernan, and Melissa Kaknis '13 drove in Rougeux when she was hit by a pitch. Pardo ended the rally by fanning the next three batters.

The Cardinals finally grabbed the lead for good with a run in the top of the sixth. Lindland singled to left with one out and scored on a two-out double down the left field line by Gigi Olson. Wesleyan clinched the win with a four-run seventh inning.

In the nightcap, Gately singled, homered and drove in four runs for the Cardinals. Beatty extended her hitting streak to 16 games with a pair and scored three runs. Getchell (5-2) scattered eight hits in seven innings, walked none and struck out five.

Rougeux recorded two more hits for Hamilton, and Gozdz doubled and had two RBI. Amy Appel '13 (1-3) started in the circle, pitched 1.2 innings and took the loss. Monique St. Jarre '15 tossed 5.1 innings of one-hit relief.

Wesleyan grabbed a 4-0 lead with a run in the first inning and three more in the second. The Continentals tried to rally with two runs in the third inning and one more in the sixth.

Lauren Fairman '16 led off the third for Hamilton with a double to right field. Rougeux moved Fairman to third with a two-out single through the left side, and Gozdz drove in both runners with a double to left field. In the sixth, Miller led off with a single up the middle, and moved to second base on a sacrifice bunt. She came around to score and make it 4-3 on a two-out double to right by Talia Mercado '15.

The Cardinals added some insurance in the top of the seventh thanks to Gately's three-run homer to center field. The Continentals went down in order in the bottom of the inning.

The teams wrap up the series with a single game on Saturday, March 30, at 11 a.m.