Softball wraps up Florida trip, postpones Morrisville DH
---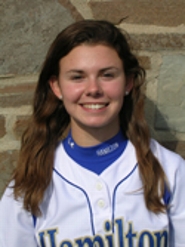 Hamilton College's Kelly Leonard '15 tossed a three-hit shutout in Game 1 and the Continentals split a non-conference doubleheader against Knox College in Fort Myers, Fla., on March 23.

Hamilton ended up 4-8 during its spring break trip to Florida. The Continentals were supposed to host Morrisville State College for another non-conference twinbill on Tuesday, March 26, but Hamilton's field is still covered with snow.

Leonard (2-5) pitched her first shutout and sixth complete game this year in a 4-0 win in the opener. Olivia Gozdz '16 and Sarah Moore '16 finished with two hits and one run batted in apiece. The Continentals scored two runs in the second inning and added one in the third and sixth innings. Avecena Hollingsworth, Jill Krippel and Kayla Behrens had the hits for Knox (1-9 overall).

The Prairie Fire edged Hamilton 2-1 in the nightcap. Karli Shields fired a two-hitter, and Hollingsworth and Behrens posted three hits apiece. Knox scored two runs in the top of the third inning after the Continentals put one across in the bottom of the second.

Lauren Fairman '16 singled and drove in a run, and Sam Miller '14 had the other hit for Hamilton. Amy Appel '13 scattered nine hits in the tough-luck loss.

The Continentals are scheduled to host Wesleyan University for their 2013 NESCAC West Division opener on Friday, March 29.