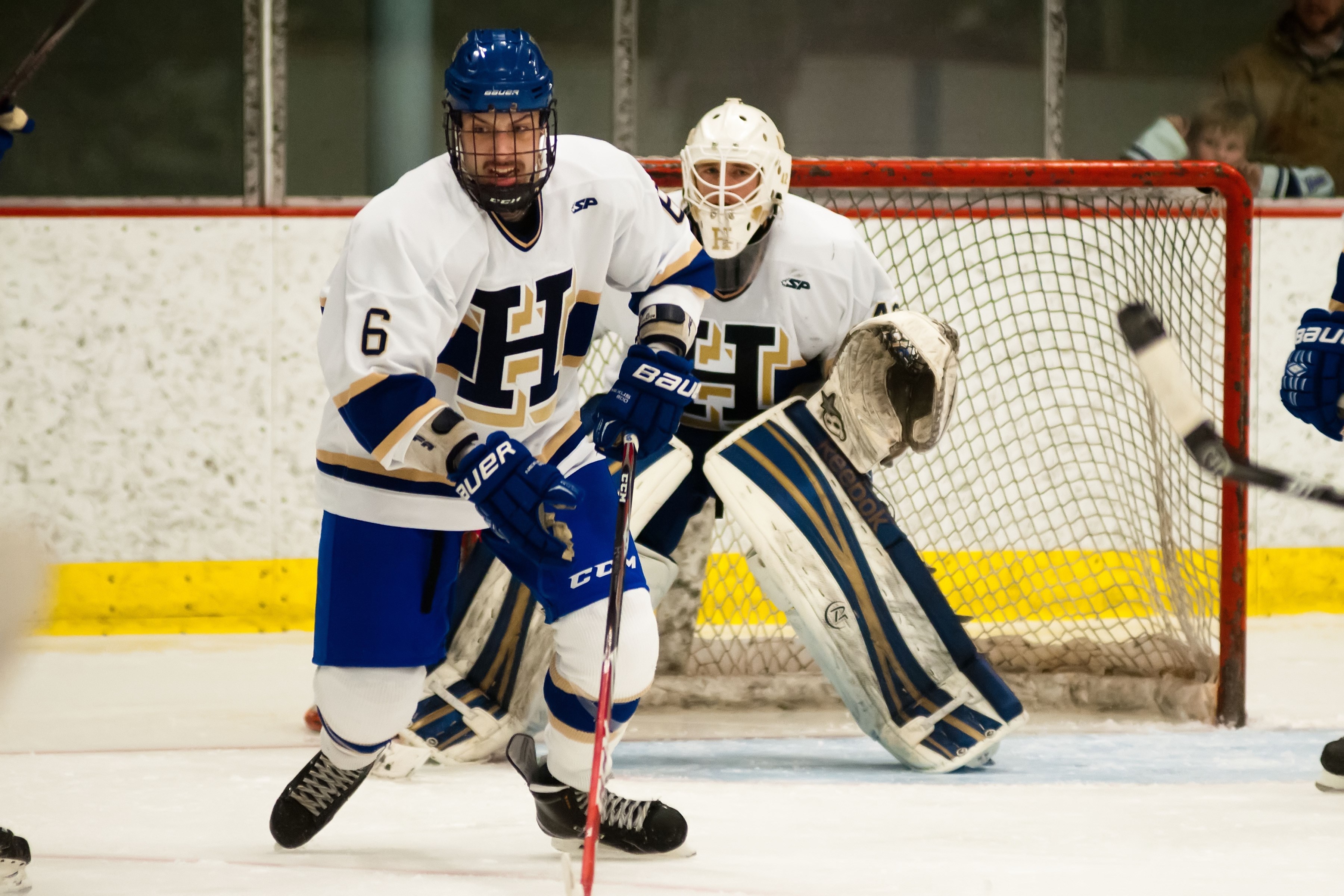 The Hamilton College men's hockey team completed a weekend sweep, stopping Connecticut College 3-1 on Saturday afternoon at Hamilton's Russell Sage Rink.

Box score

The Continentals' special teams made the difference, killing 11 minutes of penalties and scoring on both of their power-play opportunities.

Tim Nowacki '18 made a personal-high 30 saves for Hamilton (5-5-4, 4-3-2 NESCAC) and the Continentals scored two third-period goals. Marko Brelih '16 notched the game winner and Pat Curtis '15 sealed the victory with an empty-net goal in the final minute.

Brelih, Hamilton's highest scoring defenseman, scored 7:49 into the third to put the Continentals ahead for good. The Camels (6-6-2, 3-4-1) were called for their first penalty of the game at 7:41 of the third and Brelih needed just eight seconds to take advantage. After Curtis won the draw, Brelih unloaded a thundering slap shot from the right circle for his team-leading fourth power-play goal. All four of his goals have come on the power play.

Three minutes later the Continental penalty-killing unit faced its greatest challenge when Hamilton was whistled for a five-minute spearing major. They held the Camels to three shots in the five minutes and just five total shots during Conn. College's four power-play chances.

The loss snapped Conn. College's seven-game unbeaten streak. The Camels had not lost since Dec. 2, beating nationally ranked No. 10 Bowdoin, No. 5 UMass Boston and No. 10 Amherst in that span.

Curtis gave the Continentals some breathing room, scoring into an empty net with 31 seconds left. He stole a pass just inside his own blue line and slid a shot from center ice inside the near post. In Hamilton's weekend sweep, Curtis had a hand in six of the Continentals' nine goals, raising his season total to 16 points.

Hamilton took a 1-0 lead at 4:21 of the first period when Kenny Matheson '16 scored his team-best eighth goal of the winter. His linemates, Curtis and Robbie Murden '17, assisted on the goal.

The Camels, who outshot Hamilton 31-19, tied the score with a second-period goal. Zach Jones '15 scored his third of the year at 6:25 with Adam Patel '15 and Mike Martinez '15 credited with assists.

Tom Conlin '17 made 16 saves for the Camels, who now trail the all-time series against Hamilton 17-9-2. Conn. College had lost just one of the previous five meetings.

Hamilton plays its first road game in nearly three weeks on Friday, Jan. 23, traveling to No. 10 Amherst College for a 7 p.m. game. The Camels open a weekend home series on Friday against Williams College.