Spring Theatre Production Premieres April 14
---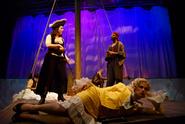 The Hamilton College Theatre Department announces the Spring Theater Production, Wet, or Isabella the Pirate Queen Enters the Horse Latitudes, by Liz Duffy Adams. Performances will run Thursday, April 14 – Saturday, April 16, at 8 p.m., and Wednesday, April 20 – Saturday April 23 at 8 p.m. There is an additional performance at 2 p.m. on Sat., April 16. All performances take place in Minor Theater.
Directed by Professor Craig Latrell, Wet is described as " the tale of female pirates, sailors and a drag queen. A theatrical romantic adventure on the high seas, the play is a liquid narrative on the notion of freedom. It's a rollicking tale of seven souls who find themselves without wind or current on a slowly sinking ship."
Wet features Hamilton students Ilse Zoerb '11 as Isabella, Alison McLaughlin '11 as Jenny, Jordyn Taylor '12 as Sally, Michael Breslin '13 as Viscountess Marlene, Kadahj Bennett '12 as Horatio, Jonathan Higginbotham '12 as Captain Joppa and Ryan Park '12 as Jack. For the April 16, matinee performance, the role of Isabella will be played by Sarah Kane '12.
Tickets for the performance are $5 for the general public and $3 for students. Seating is limited and reservations are strongly encouraged. For more information or tickets call the Theatre Department office at 859-4057.
*This performance contains language or situations that may not be appropriate for young children. Parental guidance is suggested.