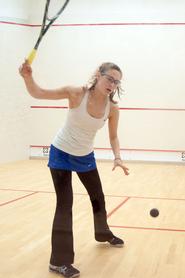 Hamilton College's Elizabeth Morris '15 captured the women's "B" draw consolation bracket championship at the 2014 Division III Squash Invitational, which was held at Wesleyan University from Dec. 5 through Dec. 7.

Results

Morris was one of six Hamilton players who participated in the tournament. The others were Hilary Gray '15, Ginger Sands '18, Isabelle Weisman '15, Josh Wolpert '16 and Carter Sanders '18.

Morris lost in three games against a player from Williams College but really hit her stride in the consolation bracket. She prevailed in three games (11-5, 11-5, 11-6) against a Wesleyan player in the first round and advanced to the semifinals by default over another Wesleyan opponent. She swept her semifinal opponent from Mount Holyoke College (13-11, 11-6, 11-6) only to match up with a familiar face in the final -- Weisman. Morris fell behind by dropping the first two games, 8-11 and 4-11, before she rallied by scores of 11-8, 11-4 and 11-5 in the last three.

Weisman traveled a similar road to the consolation final. She lost in four games to a Bates College player in the main draw before she swept her first two opponents in the consolation draw. She posted a three-game victory (11-4, 11-3, 11-5) in the first round against a Mount Holyoke opponent and routed a Wellesley College player in three games (11-5, 11-8, 11-4) in the quarterfinals. She outlasted a Connecticut College player in five games (10-12, 11-8, 11-9, 10-12, 11-6) in the semis.

Gray was the only Hamilton player to notch a victory in the main draw. She defeated a Wesleyan player in four games (11-5, 11-3, 9-11, 11-8) in the first round of the "A" draw but fell in three games to a Bates opponent in the next round. In the second round consolation draw, Gray swept a Wellesley player (11-4, 11-8, 11-9) before she dropped her next match in three games against an Amherst College opponent.

Wolpert picked up the lone win on the men's side. He defeated a player from Siena College in three games (12-10, 11-8, 11-5) in the "A" draw consolation bracket.

The squash teams are off for winter break until Sunday, Jan. 11, 2015, when they take on Colby College at Williams at 1 p.m.