Stefanie Linnan '11 Scouts Music Talent in Internship
---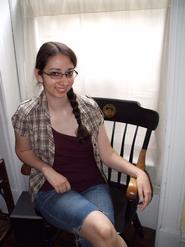 Stefanie Linnan's '11 job this summer is to pull out her headphones and listen to music. For one of her two internships, she is responsible for tracking unsigned artists on MySpace and Purevolume. Each day she sends her manager information on five artists she likes and he gives her feedback. Linnan once was able to attend a concert of a group she had recommended and reported back her first impressions.
Her internship is with Sire Records, a division of Warner Brothers Records which is located down the street from Radio City Music Hall and Rockefeller Plaza. She works there two days a week for one of the executives, Seymour Stein. Linnan feels privileged to be in the presence of a music industry tycoon like Stein, who was responsible for signing such artists as Madonna and the Ramones. "It's really exciting to get to work in the vicinity of such an influential industry insider," she said. Linnan secured the position through a friend who had previously held an internship there.
Linnan's second job is with the John Lennon Songwriting Contest and Educational Tour Bus. She works in its Upper West Side office three days a week. The John Lennon Songwriting Contest began in 1997 and is open to amateur and professional songwriters who submit entries in any one of 12 categories. There are a total of 72 finalists, 24 grand prize winners, 12 Lennon Award Winners and one recipient of the highest honor, the "Maxell Song of the Year."
The John Lennon Education Tour Bus is a mobile audio and HD video recording and production facility affiliated with the contest. It has travelled across the United States since 1998, making appearances at schools, concerts, and other musical events.
Students record songs and learn about the recording equipment stored on the bus, while concert-goers can work with cutting-edge technology and learn about the bus's mission. Linnan's responsibility is to work with the tour bus coordinator to recruit volunteers who can help the engineers in the tents.
Linnan and Lennon are not exactly natural combinations – at least, academically they aren't. She is majoring in English and psychology, so music does not top the list of most applicable career choices. However, Linnan says she has always loved music and thinks that this internship will provide her with time management and communication skills.
"I usually have to juggle many different tasks while keeping my managers and other interns up to date on what I am working on," she said. "I know that those skills will carry over to my academic work." She hopes to work for the music industry after college.
"Music is something that most people on the planet can relate to," she explained. "I think it would be great to be involved in a field that so many people care about."
She found her internship with the John Lennon Contest and Tour Bus through an online job-posting site called entertainmentcareers.net. But the job was unpaid, so she applied for and received the Joseph F. Anderson '44 Internship Fund, which provides stipends to support full-time internships for students wishing to take on not-for-profit internships in preparation for potential careers after graduation. A student in any proposed or declared area of concentration may apply for the award.
Linnan advises students to apply to many internships – even more than you would think necessary.
"You'll probably only hear back from about a third of them, and be able to schedule interviews with even fewer," she warned. And because people in the work force are often very busy, it is important to keep in touch with your contact after he has looked at your application. Chances are, he will forget about you if you don't, Linnan said.