Stephen Wright '13 Stars in Chobani Yogurt Commercial
---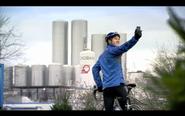 An 80-mile bike ride and a Facebook posting with a photo was all it took to propel Stephen Wright '13 to Chobani yogurt fame. Wright stars in a "Real Chobani Love Story" commercial that is currently airing on TV.
Wright, a biology major from Holliston, Mass., explains, "This all came about when I went on an 80-mile (round trip on bike friendly/back roads) ride to the Chobani factory in New Berlin, N.Y. in September." Wright is a competitive cyclist and triathlete and often rides his bike, so says the trek "wasn't a completely out of the blue ride." He started eating the yogurt as a recovery snack after tough training sessions since it has a lot of protein and no fat. Wright took a picture of the factory on his phone to send to some friends who also love Chobani.
A few days later Wright posted the picture on Chobani's fan page on Facebook, explaining that he rode his bike to the plant from school and back. "Shortly after I posted that," Wright recalled, "the communications director for Chobani contacted me and asked if I'd be interested in being part of an ad campaign." Wright then told his story to the company's ad agency. "They asked me to record a short video talking about myself, my story and my love for Chobani." That resulted in production of a YouTube video that was filmed on campus.
Wright said that all occurred within about 10 days. "I didn't hear from them for a couple weeks but then I got a call from Chobani's vice president of marketing asking if I'd like to be in a commercial for them," he recalls.
The commercial was shot in November in Syracuse as one of two spots in Chobani's first-ever ad campaign.


This spring Dave Thompson, director of the Fitness Center, and Wright are putting together a triathlon training class to help athletes learn and develop their skills. Wright comments, "Whether they've never done a race or have been racing for a few years and just want to get faster, the class will be very beneficial to anyone who attends." Topics like proper training methods, safety skills, transitions, bike handling skills, and swim+run drills will be covered twice a week, on Tuesdays and Thursdays.