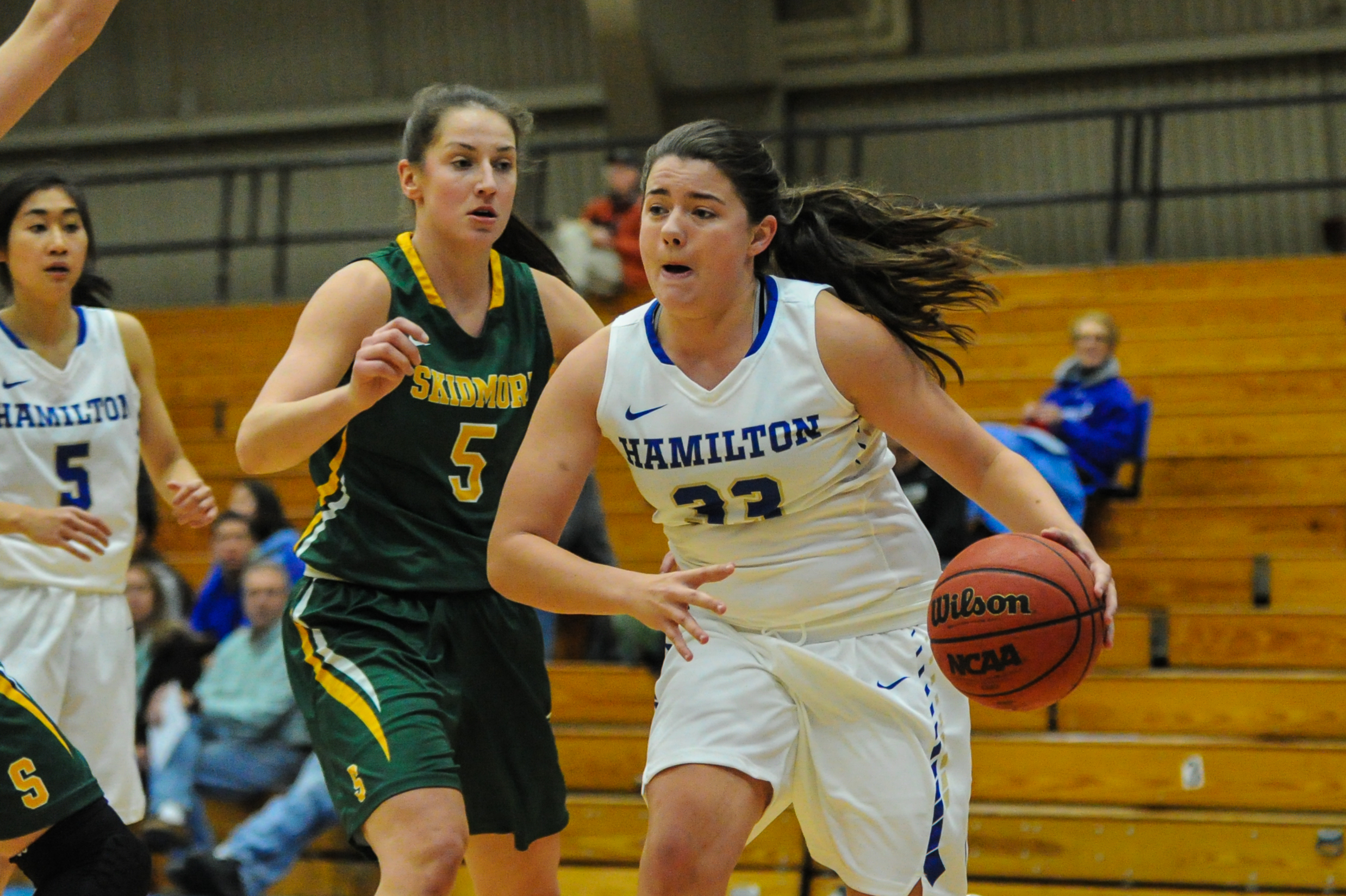 The Hamilton College women's basketball team picked up its first win of the season, throttling host SUNY Polytechnic for a 56-39 victory Saturday. The Continentals (1-2 overall) allowed just 12 second-half points to the Wildcats (1-1).

Box score

Hamilton held the hosts without a basket for a stretch of nearly 17 minutes after SUNY Poly had pulled to within two points early in the third quarter.

For the game, the Continental defense held the Wildcats to 24.1 percent shooting from the floor. SUNY Poly made just five of 35 second-half shots (14.3 percent).

Sam Graber '16 led the Continentals with 13 points and eight rebounds and Lauren Getman '18 finished with 10 points and seven rebounds.

The game-clinching stretch of defensive dominance followed a Wildcat run that opened the second half with six straight points. SUNY Poly closed to within 35-33 after trailing by eight at intermission. Lauren Knowes hit jumpers on consecutive possessions to pull the Wildcats as close as they'd been since midway through the opening period.

Knowles' second basket came with 7:14 left in the third; the Wildcats missed their next 26 shots from the floor until Jordan Sahl finally ended the streak 16:28 later – with the game well out of hand thanks to Hamilton's 21-point lead.

Hamilton's bench outscored the Wildcat reserves 23-4, paced by a personal-best 11 points from Claire Hebb '19. Hebb, who collected a collegiate-best four rebounds, played just 17 minutes. Kate Bushell '17 netted eight points – one short of her career best – and added four rebounds off the bench. Kendall Rallins '19 chipped in six points (one short of her top effort).

Knowles led all players with 14 points and finished with six rebounds – second on the team to Erica Charbonneau, who pulled down eight.

The Continentals host Utica Monday at 7 p.m. at Margaret Bundy Scott Field House.